01.12.2017 | Research article | Ausgabe 1/2017 Open Access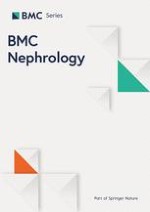 Fluid status evaluation by inferior vena cava diameter and bioimpedance spectroscopy in pediatric chronic hemodialysis
Zeitschrift:
Autoren:

Xavier Torterüe, Laurène Dehoux, Marie-Alice Macher, Olivier Niel, Thérésa Kwon, Georges Deschênes, Julien Hogan
Wichtige Hinweise
Electronic supplementary material
Abbreviations
BIS
bioimpedance spectroscopy
IVCCI
Inferior vena cava collapsibility index
Background
Hydration status evaluation is one of the major issues in children on chronic hemodialysis (HD). Acute overhydration can lead to acute pulmonary oedema and hypertension while chronic overhydration is a well-known factor of cardiovascular morbidity and mortality both in adults and children [
1
,
2
]. Intradialytic underhydration induces headache, abdominal pain, muscle cramps, hypotension and has been shown to increase the risk of brain and heart injury [
3
,
4
]. Postdialytic underhydration exposes the patient to an increased interdialytic weight gain which has been found associated with left ventricular hypertrophy and cardiovascular death [
5
].
Many methods exist to complete the clinical evaluation of the hydration status: cardiothoracic index based on chest X-ray evaluation, Inferior Vena Cava (IVC) diameter evaluated by ultrasound, biomarkers like Brain Natriuretic Peptide, Bioimpedance Spectroscopy (BIS), plasmatic volume variation monitoring [
6
] and recently lung ultrasound [
7
]. Among adults, a strict management of the hydration status based on BIS evaluation was found effective in decreasing Left Ventricular Mass Index and all-cause and cardiovascular mortalities [
8
,
9
]. Based on these results, BIS is now widely recognized as the method of reference for hydration status assessment among adult patients on chronic HD.
Measurement of IVC diameter by echocardiography is a rapid, non-invasive and relatively easy-to-use method to estimate the central venous pressure (CVP) [
10
,
11
]. Among adults, a minimal IVC diameter inferior to 8 mm/m
2
is associated to a low CVP less than 3 mmHg and a minimal IVC diameter superior to 11.5 mm/m
2
is associated to a high CVP above 7 mmHg [
12
–
14
]. Nephrologists can use it easily without the help of a cardiologist [
15
]. Many studies showed that a dilatation of IVC is associated with an overhydration in adult population on hemodialysis and a collapsed IVC might be used to define dry weight [
13
,
16
]. Brennan et al. showed that a low predialytic IVC Collapsibility Index (IVCCI) was associated with intradialytic adverse events [
14
]. However, only few pediatric studies evaluated this technique among children treated with HD and showed a decreased IVC diameter and an increased IVCCI after dialysis [
17
–
19
]. But these studies were performed before the American Society of Echocardiography published reference curves for maximal IVC diameter, minimal IVC diameter and IVC collapsibility index indexed to body surface area based on repeated measurements in a healthy pediatric population [
20
]. Thus, studies assessing the association between IVC measurements and fluid overload, dialysis tolerance or cardiovascular events, are lacking in children.
In this single-center prospective study, we aim to (I) evaluate the ability of predialysis IVC measurements to determine patients' fluid status before dialysis session and to guide dry weight assessment, (II) to evaluate the usefulness of IVC measurement to predict the tolerance of the HD session and (III) to study the IVC measurements as a marker of intravascular volume and blood pressure in HD pediatric patients.
Methods
Patients' characteristics

and c

linical evaluation of hydratation status:

All prevalent patients on chronic HD in our center between March and April 2015 were included. We excluded one patient because of vascular abnormalities (absence of IVC) and one because of the absence of consent. Informed consent was obtained from the parents or guardian of the patients prior to the study after the local ethics committee approved the research protocol.

Systolic blood pressure (SBP), diastolic blood pressure (DBP), heart rate (HR) and weight were measured just before connection and after dialysis session according to the unit practices. The blood pressure was measured in supine position with an automated device and an adapted cuff size. Hypertension was defined as superior to the 95th percentile for age, height and sex according to the Pediatric BP Task Force Report [

21

]. Blood pressure is reported in SBP index (SBP divided by SBP 95th percentile) and DBP index (DBP divided by DBP 95th percentile). The patients' clinical dry weight was evaluated by a physician using clinical history, blood pressure, cardiothoracic ratio on chest X-ray, hematocrit and protidemia, tolerance of prior hemodialysis sessions and interdialytic weight gain. Dry weight was regularly decreased until blood pressure is controlled or dialysis session tolerance precludes further decrease. Clinical evaluation of overhydration was calculated as follow: (Pre-dialysis weight – Dry weight)/Dry weight and express in percents. Total ultrafiltration, ultrafiltration rate (in mL per minute) and hemodialysis duration were chosen according to this clinical assessment. The physician was unaware of IVC and BIS measurements. Hemodialysis session tolerance evaluation included hypotension, headache or abdominal pain during the session. In case of intolerance, SBP, DBP, HR, total ultrafiltration, hourly ultrafiltration rate and total amount of volemic expansion (if needed) were recorded. Patients received 3 or 4 hemodialysis sessions per week of four hours each. At the time of the study, sodium profiling was not routinely performed in our center and ultrafiltration was not guided by relative blood volume modification. Inclusions were made indifferently during midweek sessions or after the weekend.
Echocardiographic measurement:
The echocardiographic measurements were performed at the bedside by a nephrologist of the unit with a patient in supine position for at least 5 min just before the connection and the beginning of the dialysis session and one hour after the end of the session to allow vascular refilling after dialysis. The IVC diameter was measured at end-expiration (maximal diameter) and at end-inspiration (minimal diameter) at the entry of the hepatic veins as recommended by the American Society of Echocardiography guidelines and performed in the study by Kutty et al. We chose to make the measurements with the two-dimensional technique, B-mode, that had the spatial orientation advantages we lose in M-mode [
10
,
20
]. IVCCI was calculated as IVCCI = (maximal diameter – minimal diameter)/maximal diameter. The different measurements were then reported on the reference curves indexed on BSA. Maximal or minimal IVC diameter superior to +2SD and IVCCI inferior to -2SD were considered as a dilatation of IVC. Maximal or minimal IVC diameter inferior to -2SD and IVCCI superior to +2SD were considered as a collapsed IVC [
20
]. Ultrasound studies were performed on an Philips ATL® HDI 3500.
Assessment of hydration status by bioimpedance spectroscopy
Body Composition Monitor (BCM, Fresenius Medical Care®) using multifrequency BIS was used to assess the hydration status. At least two measures were realized at the same time of the echocardiographic measurement, before connection, at the bedside, and after five minutes of supine position. The BCM device is a non-invasive method to estimate the intracellular and extracellular water volume by the use of bioimpedance spectroscopy at 50 frequencies (5 kHz to 1000 MHz). The relative overhydration (rel.OH), hydration normalized to extracellular water, allows the comparison between the patients regardless of their weights, heights, sex or age. The normal hydration status was defined by a rel.OH from −7 to 7%, corresponding to the 10th and 90th percentiles of a healthy population. A moderate overhydration was defined by a rel.OH from +7 to +15% and a severe overhydration by a rel.OH > +15% [
2
,
22
]. These norms were used in studies in adult [
23
] and in paediatric [
24
] populations.
Statistical analysis
Dichotomous variables are given in percent and continuous variables as median and interquartiles (IQ). We tested for correlation between the results of the different methods used to assess the hydration status by calculating Pearson correlation coefficient. Logistic regression models were used to study factors associated with the tolerance of the dialysis sessions. We first performed univariable logistic regressions on all the variables to determine which ones to include in our final model. All variables with a
P
-value less than 0.2 were included in the multivariable logistic regression models.
All tests were performed at an α-risk value of 0.05. Statistical analysis was performed with SAS 9.2.
Results
Discussion
In this cohort of 16 children on chronic hemodialysis, we do not find any correlation between IVC diameter measured by echography and hydration status evaluated by bioimpedance spectroscopy. But we found an interesting association between persistent hypertension and end-expiratory IVC diameter.
Conclusion
Our study indicates that predialityc measurement of IVC diameter is not sufficient to assess hydration status but can predict volume-dependant high blood pressure in children on chronic HD. Thus, other methods are needed and the impact of the use of BIS on acute and chronic haemodialysis complications has to be evaluated in future studies.
Acknowledgements
We are grateful to Marie-Karin Etchegaray for her assistance in organizing measurements.
Availability of data and materials
The dataset used during the current study is available from the corresponding author on reasonable request.
Ethics approval and consent to participate
All treatments patients received are considered standard care for their condition. Written informed consent was obtained from the parents or guardian of the patients prior to the study and patients, when old enough, gave verbal assent. The local ethics committee (CEER of Robert Debré Hospital, Paris, France) approved the research protocol. Reference number:
2015/211.
Consent for publication
Not applicable.
Competing interests
The authors declare that they have no competing interests
Publisher's Note
Springer Nature remains neutral with regard to jurisdictional claims in published maps and institutional affiliations.
Open Access
This article is distributed under the terms of the Creative Commons Attribution 4.0 International License (
http://​creativecommons.​org/​licenses/​by/​4.​0/​
), which permits unrestricted use, distribution, and reproduction in any medium, provided you give appropriate credit to the original author(s) and the source, provide a link to the Creative Commons license, and indicate if changes were made. The Creative Commons Public Domain Dedication waiver (
http://​creativecommons.​org/​publicdomain/​zero/​1.​0/​
) applies to the data made available in this article, unless otherwise stated.