04.03.2019 | Hepatobiliary Tumors | Ausgabe 6/2019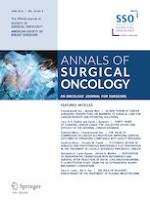 Fluorescent Tissue Assessment of Colorectal Cancer Liver Metastases Ablation Zone: A Potential Real-Time Biomarker of Complete Tumor Ablation
Zeitschrift:
Autoren:

MD Vlasios S. Sotirchos, PhD Sho Fujisawa, MD, PhD Efsevia Vakiani, MD, FSIR Stephen B. Solomon, PhD Katia O. Manova-Todorova, MD, PhD, FSIR, FCIRSE Constantinos T. Sofocleous
Wichtige Hinweise
Publisher's Note
Springer Nature remains neutral with regard to jurisdictional claims in published maps and institutional affiliations.
Abstract
Background
This study aimed to evaluate whether rapid fluorescent tissue examination immediately after colorectal cancer liver metastasis (CLM) ablation correlates with standard pathologic and immunohistochemical (IHC) assessments.
Methods
This prospective, National Institutes of Health-supported study enrolled 34 consecutive patients with 53 CLMs ablated between January 2011 and December 2014. Immediately after ablation, core needle sampling of the ablation zone was performed. Tissue samples were evaluated with fluorescent viability (MitoTracker Red) and nuclear (Hoechst) stains. Confocal microscope imaging was performed within 30 min after ablation. The same samples were subsequently fixed and stained with hematoxylin and eosin (H&E). Identified tumor cells underwent IHC staining for proliferation (Ki67) and viability (OxPhos). The study pathologist, blinded to the H&E and IHC assessment, evaluated the fluorescent images separately to detect viable tumor cells. Sensitivity, specificity, and overall concordance of the fluorescent versus H&E and IHC assessments were calculated.
Results
A total of 63 tissue samples were collected and processed. The overall concordance rate between the immediate fluorescent and the subsequent H&E and IHC assessments was 94% (59/63). The fluorescent assessment sensitivity and specificity for the identification of tumor cells were respectively 100% (18/18) and 91% (41/45).
Conclusions
The study showed a high concordance rate between the immediate fluorescent assessment and the standard H&E and IHC assessment of the ablation zone. Given the documented prognostic value of ablation zone tissue characteristics for outcomes after ablation of CLM, the fluorescent assessment offers a potential intra-procedural biomarker of complete tumor ablation.