29.11.2018 | Review | Ausgabe 1/2019 Open Access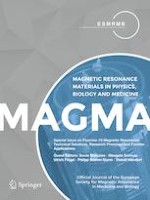 Fluorine polymer probes for magnetic resonance imaging: quo vadis?
Autoren:

Daniel Jirak, Andrea Galisova, Kristyna Kolouchova, David Babuka, Martin Hruby
Abstract
Over the last few years, the development and relevance of 19F magnetic resonance imaging (MRI) for use in clinical practice has emerged. MRI using fluorinated probes enables the achievement of a specific signal with high contrast in MRI images. However, to ensure sufficient sensitivity of 19F MRI, fluorine probes with a high content of chemically equivalent fluorine atoms are required. The majority of 19F MRI agents are perfluorocarbon emulsions, which have a broad range of applications in molecular imaging, although the content of fluorine atoms in these molecules is limited. In this review, we focus mainly on polymer probes that allow higher fluorine content and represent versatile platforms with properties tailorable to a plethora of biomedical in vivo applications. We discuss the chemical development, up to the first imaging applications, of these promising fluorine probes, including injectable polymers that form depots that are intended for possible use in cancer therapy.