01.12.2017 | Research | Ausgabe 1/2017 Open Access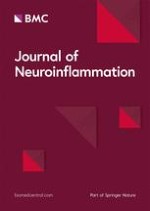 Fluoxetine-enhanced autophagy ameliorates early brain injury via inhibition of NLRP3 inflammasome activation following subarachnoid hemorrhage in rats
Zeitschrift:
Autoren:

Jian-ru Li, Hang-zhe Xu, Sheng Nie, Yu-cong Peng, Lin-Feng Fan, Zhi-jiang Wang, Cheng Wu, Feng Yan, Jing-yin Chen, Chi Gu, Chun Wang, Jing-sen Chen, Lin Wang, Gao Chen
Wichtige Hinweise
Electronic supplementary material
Abstract
Background
The NLRP3 inflammasome is a multiprotein complex that regulates the innate immune inflammatory response by activating caspase-1 and subsequent IL-1β and IL-18. Fluoxetine has been shown to have the anti-inflammatory properties in many disease models. However, the effects and mechanisms of these effects of fluoxetine in early brain injury after subarachnoid hemorrhage (SAH) have not been defined.
Methods
The SAH model was induced by an endovascular perforation in adult male Sprague-Dawley (SD) rats weighing 300–320 g. N-Ac-Tyr-Val-Ala-Asp-chloromethyl ketone (AC-YVAD-CMK) was injected intraperitoneally (5 mg/kg) 1 h after SAH. Fluoxetine was administered via intravenous route 6 h after SAH. 3-Methyladenine (3-MA) was intracerebroventricularly injected 20 min before SAH. SAH grade, neurological function, brain water content, propidium iodide (PI) staining, western blot, double immunostaining, and transmission electron microscopy were performed.
Results
Expression of caspase-1 increased and peaked at 24 h after SAH. Caspase activation was along with the increased necrotic cells, which occurred mainly in neurons. Necrotic cell death of microglia and astrocyte were also found. Administration of AC-YVAD-CMK, a caspase-1 inhibitor, reduced the expression of IL-1β and IL-18 and the number of PI-positive cells, attenuated brain edema, and improved neurological function, which was also observed in fluoxetine-treated rats. Furthermore, fluoxetine treatment significantly decreased the expression of NLRP3 and cleaved caspase-1 and upregulated the expression of beclin-1, a marker for autophagy. Finally, the effects of fluoxetine in NLRP3 inflammasome activation were reversed by additional 3-MA administration.
Conclusions
Together, our present study indicated that NLRP3 inflammasome and caspase-1 activation play a deleterious role in early brain injury and fluoxetine mitigates NLRP3 inflammasome and caspase-1 activation through autophagy activation after SAH, providing a potential therapeutic agent for SAH treatment.