30.12.2016 | Neurological Update | Ausgabe 7/2017 Open Access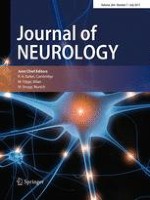 Focal task specific dystonia: a review and update
Zeitschrift:
Autoren:

Christine M. Stahl, Steven J. Frucht
Introduction
Dystonias are a diverse "group of movement disorders characterized by sustained or intermittent muscle contractions causing abnormal, often repetitive, movements, postures, or both" [
1
]. Recently updated consensus opinion classifies dystonias by two axes: clinical characteristics and etiology. The first axis, clinical characteristics, includes the age of onset, affected body region, temporal pattern, and associated neurologic or systemic features [
1
]. A subclassification includes focal task specific dystonias (FTSD), which are a diverse group of focal dystonias affecting an isolated body part and are triggered, at least initially, by a specific action.
While the term "dystonia" was first used in 1911 by Oppenheim, the clinical phenomenon had been described almost a century earlier in patients with FTSD [
2
]. In 1830, clerks in the British Civil Service were noted to develop difficulty with writing. After observing these clerks, Sir Charles Bell remarked that he "found the action necessary for writing gone, or the motions so irregular as to make the letters be written zig-zag, whilst the power of strongly moving the arm for fencing remained…" [
3
]. Later in the 1860s, Samuel Solly labeled this condition "scrivener's palsy" [
4
]. While "scrivener's palsy" or writer's cramp, as it is now called, is one of the more recognized forms of FTSD, dystonia may affect musicians, typists, hairdressers, painters, shoemakers and tailors [
5
–
7
]. Sport-related FTSD have also been described in golfers, pistol shooters and ping-pong players, among others. Because of their association with repetitive, fine motor tasks often linked to one's profession, FTSD have also been referred to as occupational dystonias. Interestingly, until the 1980s FTSD were erroneously interpreted to be psychogenic in origin, often termed "occupational neuroses." In 1982, evidence for an organic etiology emerged from the work of Sheehy and Marsden [
8
].
In this review, we discuss the phenomenology and epidemiology of two of the most common forms of FTSD, writer's cramp and musician's dystonia. We then discuss emerging findings on the etiology, pathophysiology and treatment of FTSD.
Background
FTSD typically begins in adulthood with symptom onset in the third to sixth decade. Unlike other adult onset primary focal dystonias, FTSD is more common in men, and it usually affects the arm, facial muscles or larynx [
9
]. Overall prevalence estimates for FTSD in the general population range from 7 to 69 per million [
10
,
11
]. However, prevalence has been estimated to be much higher in selected groups; for instance, some studies have shown as many as 14% of patients seen at performing arts medical centers have FTSD [
12
,
13
].
FTSD typically presents as an insidious, painless loss of dexterity triggered by performance of a specific, often over-practiced task. Symptoms progress over time to trigger uncontrolled activation of muscle groups, leading to abnormal postures and movements. Early in the disease course, the dystonia typically is triggered only by the performance of a specific task, but over time spreads to involve other tasks, or even spreads to previously unaffected areas of the body. As with other types of dystonias, sensory tricks, or
geste antagonistes
, may temporarily reduce the dystonic symptoms of FTSD [
14
].
Writer's cramp and musician's dystonia
Advances in understanding
In recent years, much effort has focused on understanding the etiology, risk factors and pathophysiology of FTSD and potential therapeutic interventions. We will review these in turn.
Etiology
The etiology of FTSD remains unknown, although recent lines of evidence suggest that both genetic and environmental factors are important [
17
]. Examination of family members of patients with FTSD revealed up to 25% of patients with an affected family member [
18
,
19
]. This is consistent with a recent study of musician's dystonia which found approximately 20% of patients with a similarly affected family member [
20
]. A recent genome-wide analysis has found an association with the arylsulfatase G (ARSG) gene in both musician's hand dystonia and writer's cramp, but to date, a specific causative mutation within this gene has not been identified [
21
,
22
]. Additionally, in a study of musicians with FTSD of the hand, along with patients with writer's cramp and their relatives, reduced interhemispheric inhibition as measured by transcranial magnetic stimulation (TMS) was observed in individuals where there was a positive family history for dystonia. This finding suggests that reduced interhemispheric inhibition may serve as a possible endophenotypic marker of genetic susceptibility for developing FTSD [
23
].
In addition to repetitive, over-practicing of a motor task, other environmental factors may contribute to the risk factors of developing FTSD. Possible risk factors include personality traits, such as perfectionism and anxiety, anatomical factors, such as hand size and joint mobility, as well as delayed onset of age of musical training [
17
,
24
,
25
].
Pathophysiology
Treatment
Conclusion
FTSD are a fascinating group of movement disorders characterized by aberrant motor overactivation during the performance of a specific, often over-practiced activity. The triggering activity can be associated with one's occupation, leading to the disorder's further classification as an occupational dystonia. The development of such a condition can impact one's livelihood, particularly if symptoms are severe. While progress has been made in recent years in understanding the etiology, risk factors and pathophysiology of FTSD, improved therapeutic options are needed.
Compliance with ethical standards
Conflicts of interest
The authors have no conflict of interest to report.
Open Access
This article is distributed under the terms of the Creative Commons Attribution 4.0 International License (
http://​creativecommons.​org/​licenses/​by/​4.​0/​
), which permits unrestricted use, distribution, and reproduction in any medium, provided you give appropriate credit to the original author(s) and the source, provide a link to the Creative Commons license, and indicate if changes were made.