01.06.2014 | Review | Ausgabe 6/2014 Open Access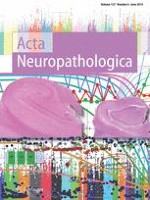 Focusing the amyloid cascade hypothesis on N-truncated Abeta peptides as drug targets against Alzheimer's disease
Zeitschrift:
Autoren:

Thomas A. Bayer, Oliver Wirths
Introduction
Alzheimer's disease (AD) is a progressive neurodegenerative disorder characterized by the presence of extracellular amyloid plaques composed of amyloid-β (Aβ) surrounded by dystrophic neurites and neurofibrillary tangles. The discovery that certain early-onset familial forms of AD may be caused by an enhanced production of Aβ peptides, led to the hypothesis that amyloidogenic Aβ is intimately involved in the AD pathogenic process [
88
]. Aβ is derived by proteolytic cleavage of the β-amyloid precursor protein (APP) [
89
].
Full-length Aβ is a physiological peptide with a role in long-term depression
Potential enzymatic activities leading to N-terminal truncations
The precise enzymatic activities leading to the generation of the diverse N-terminally truncated Aβ peptides are in most cases not known in detail; however, several candidates have been proposed (Fig.
1
; Table
1
).
Table 1
Overview of identified proteases and cleavage sites possibly involved in N-truncated Aβ generation
Protease

Cleavage site

Potential Aβ peptide

References

BACE1

Met (−1) ↓ Asp(1)

Aβ1–x

Tyr (10) ↓ Glu (11)

Aβ11–x, AβpE11–x

Aminopeptidase A

Asp (1) ↓ Ala (2)

Aβ2–x

Meprin-β

Asp (1) ↓ Ala (2)

Aβ2–x

Neprilysin

Ala (2) ↓ Glu (3)

Aβ3–x, AβpE3–x

Glu (3) ↓ Phe (4)

Aβ4–x

Arg (5) ↓ His (6)

Aβ6–x

Myelin basic protein

Phe (4) ↓ Arg (5)

Aβ5–x

Angiotensin-converting enzyme

Asp (7) ↓ Ser (8)

Aβ8–x

Plasmin

Arg (5) ↓ His (6)

Aβ6–x
×
Aβ molecules secreted by MDCK cells exhibit extensive amino-terminal heterogeneity with >80 % of molecules containing an amino-terminus at the Arg-5 residue and only a minority of fragments initiating at Asp-1 [
31
]. In contrast to the results obtained in cells expressing wild-type APP, the cells expressing APP-695swe showed that the majority of Aβ peptides began at Asp-1, while only ~10 % began at Arg-5. The results indicated that Asp-1 is a preferred site for the β-secretase cleavage of APP-695swe [
54
].
N-truncation of Aβ
3–40
and Aβ
5–40
is facilitated by reduced endocytosis of APP in vitro, a requirement for BACE cleavage [
12
]. The generation of Aβ was analyzed in human embryonic kidney (HEK) 293 cell lines stably expressing wild type and non-internalizing mutants of human APP [
12
]. APP lacking the entire cytoplasmic domain or with both tyrosine residues of the motif GYENPTY mutated to Ala showed at least fivefold reduced endocytosis. In these cell lines, the production of Aβ
1–40
was substantially reduced but accompanied by the appearance of two prominent alternative Aβ peptides differing at the amino termini which were identified as Aβ
3–40
and Aβ
5–40
.
Portelius et al. [
73
] studied the Chinese hamster ovary cell line 7PA2 stably transfected with the 751 amino acid APP isoform harboring mutant V717F. Treatment of the cells with a BACE1 inhibitor decreased the abundance of the Aβ monomer band and resulted in lower levels of Aβ
1–40
, Aβ
1–42
and secreted APP. Western blot bands thought to represent oligomers of Aβ increased in response to BACE1 inhibition. This increase was paralleled by the emergence of N-terminally truncated Aβ
5–40
in particular. Treatment of cell cultures and dogs with BACE1 inhibitors significantly reduced Aβ peptides starting at Asp-1, while amino-terminally truncated variants such as Aβ
5–40
increased [
59
,
83
,
94
]. Based on data from treatment of human neuronal and non-neuronal cells expressing wild-type APP with inhibitors of BACE and α-secretase in vitro, it has been proposed that Aβ
5–40/42
might be derived from alternative β-cleavage of APP by α-secretase-like protease(s) [
94
]. One has to consider though that the expression of a mutation within the
APP
gene and/or the cell types used can influence the variant and quality of the N-terminally truncated Aβ.
Incubation of HEK293 cells overexpressing APP containing the Swedish mutation with the aminopeptidase inhibitor amastatin revealed significantly increased levels of full-length Aβ in the supernatant. This led to the identification of aminopeptidase A as a candidate enzyme cleaving the N-terminal Asp-1 residue [
91
]. Very recently, meprin-β has been proposed as another enzyme with the ability to process Aβ peptides [
6
]. It has been demonstrated that this enzyme cleaves full-length APP in a β-secretase manner, leading to the generation of Aβ
2–x
peptides, which have been previously described in AD patients [
56
,
104
]. One of the major Aβ-cleaving proteases is the zinc-metalloprotease neutral endopeptidase or neprilysin (NEP) [
38
]. High-performance liquid chromatography in combination with mass spectrometry analysis identified several cleavage sites when Aβ
1–40
peptides were incubated with NEP. Among other truncations, NEP generates N-terminal truncated Aβ peptides by cleavage between Arg-2 and Glu-3 or between Glu-3 and Phe-4 but leaves full-length APP unaffected [
35
,
47
]. In vitro experiments have demonstrated that exposure of cultured primary neurons to aggregated full-length Aβ leads to increased mRNA-levels of tissue plasminogen activator (tPA) and urokinase-type plasminogen activator (uPA), implying a role for the plasmin system in Aβ clearance. It has been shown that purified plasmin degrades Aβ with physiologically relevant efficiency, leading to the identification of different cleavage sites, e.g. after Arg-5, which is consistent with the known specificity of plasmin to cleave after basic amino acids [
96
,
97
]. Genetic studies have established a relationship between angiotensin-converting enzyme (ACE) and AD [
21
]. Hu and colleagues [
37
] provided the first evidence that ACE is able to significantly counteract the aggregation, deposition and cytotoxicity of Aβ in vitro by cleavage of Aβ at Asp-7. Purified myelin basic protein (MBP) is another candidate protein that possesses endogenous serine protease activity and that, at least in vitro, has been demonstrated to degrade Aβ peptides. Mass spectrometry identified several cleavage sites in fibrillar and soluble Aβ42 preparations, including between Phe-4 and Arg-5 in the N-terminus of the Aβ-sequence [
52
]. Finally, the major protease responsible for the liberation of Aβ
1–x
peptides in AD, BACE 1, is also capable of cleaving between Tyr-10 and Glu-11, leading to the release of Aβ
11–x
peptides [
98
]. The identification of this β′-cleavage site matched previous observations in primary neurons and cell lines suggesting that many of the Aβ
x–40/x–42
peptides start with Glu-11 [
95
,
103
]. Whereas N-terminally truncated and post-translationally modified Aβ
pE11–42
peptides have been demonstrated predominantly in mature plaque cores in AD brains, both unmodified Aβ
11–40
, as well as Aβ
pE11–40
peptides have been detected in vascular deposits by immunohistochemistry [
53
].
N-truncated Aβ is neurotoxic in vitro
N-terminally truncated Aβ peptides in transgenic animal models of Alzheimer's disease
N-truncated Aβ peptides appear during Alzheimer progression
In the following paragraphs, we endeavor to shed light on what is known regarding the role of N-terminal truncated Aβ peptides in AD.
Aβ as target for immunotherapy
In 1999, Schenk et al. [
82
] pioneered the AD field by introducing immunization as a causal therapeutic option. They immunized transgenic APP mice with pre-aggregated synthetic Aβ
1–42
, either before or after onset of plaque deposition. Immunization of young animals essentially prevented the development of plaque formation and astrogliosis. Treatment of older animals also markedly reduced the extent and progression of these AD-like neuropathologies. These results implied that immunization with pre-aggregated Aβ
1–42
may be effective in preventing and treating AD. Moreover, vaccination with Aβ not only reduced plaque load, but also protected transgenic mice from the learning and age-related memory deficits [
65
]. Several mechanisms have been suggested since then for the significant therapeutic effects of immunotherapy in AD mouse models, which will be discussed below.
Clearing plaque Aβ
Antibodies may act catalytically to dissolve preformed Aβ aggregates or prevent Aβ aggregation [
93
]. In this case, the antibody pool might also be neutralized by amyloid plaques due to plaque binding, leading to weakened efficacy. The phase II clinical trial with AD patients using pre-aggregated synthetic Aβ
1–42
for active immunization was very instructive, despite the fact that it had to be stopped due to unexpected side effects with 6 % of AD subjects (18 of 300) developing serious brain inflammation resembling meningoencephalitis [
25
]. Although immunization with Aβ
1–42
resulted in clearance of amyloid plaques in patients with AD, the clearance did not prevent progressive cognitive decline [
34
]. While these observations clearly showed that peripheral antibodies against Aβ do have an effect on CNS molecules like deposited amyloid peptides, simple plaque removal is not sufficient to rescue AD memory decline. Antibodies targeting plaques could even have a noxious effect by solubilizing fibrillar and innocuous Aβ [
5
,
32
].
Bapineuzumab was the first humanized antibody in clinical trials. However, in double-blinded, randomized, placebo-controlled phase III trials involving more than 2,000 patients with mild-to-moderate AD, bapineuzumab did not improve clinical outcomes [
81
]. The crystal structure of a bapineuzumab Fab–Aβ peptide complex revealed that it captured Aβ in a monomeric helical conformation at the N-terminus [
61
]. The authors used microscale thermophoresis to demonstrate that the Fab binds soluble Aβ
1–40
with a KD of 89 (±9) nM. They concluded that the crystal structure explains the antibody's selectivity for monomeric Aβ species and that it cannot recognize N-terminally modified or truncated Aβ peptides.
Clearance by microglia
Microglia clearance of Aβ is another mechanism that has recently been proposed as being important in an immunotherapy approach [
101
]. Intracranial administration of anti-Aβ antibodies into frontal cortex and hippocampus of Tg2576 APP transgenic mice resulted in clearance of compact amyloid deposits and is associated with microglial activation [
102
]. This might lead to subsequent phagocytosis via an interaction of the Fc receptor on microglia cells with the Fc part of the antibody bound to Aβ [
4
]. In contrast, using Fc receptor-gamma chain knock-out mice, the effects of anti-Aβ antibodies on Aβ deposition in Tg2576 APP transgenic mice were not dependent on FcR-mediated phagocytic events [
16
]. Therefore, Fab fragments of therapeutic antibodies might be sufficient, as the Fc part is not required for Aβ neutralization.
Peripheral sink hypothesis
Another therapeutic option does not require penetration of the blood–brain barrier. Chronic treatment with the monoclonal anti-Aβ antibody m266 led to increased plasma levels of Aβ and reduced amyloid plaques in the PDAPP transgenic mouse model [
17
]. In a follow-up study, the group reported that administration of m266 to these mice rapidly reversed memory deficits without altering brain Aβ burden [
19
]. They also found that an Aβ/antibody complex was present in both the plasma and the cerebrospinal fluid of m266-treated mice. The authors concluded that the observed treatment effect might be due to enhanced peripheral clearance and (or) sequestration of a soluble brain Aβ species [
19
]. In contrast, Yamada et al. [
111
] have reported that immunotherapy with m266 neutralizes intracerebral, rather than peripheral, soluble, monomic forms of Aβ.
Soluble aggregates as possible target
Yet a further mechanism proposes the ability of certain antibodies to bind to oligomers and neutralize their synaptotoxic effects directly [
46
]. It has been shown that intra-cerebroventricular injection of naturally secreted human Aβ oligomers (harvested from 7PA2-conditioned medium) inhibited long-term potentiation in rat hippocampus. Injection of a monoclonal antibody to Aβ completely prevented the inhibition of long-term potentiation even after Aβ exposure. The N-termini of the naturally secreted oligomers were not described, therefore Asp-1 or N-terminally truncated forms could account for the observed effects.
Autoantibodies against N-truncated Aβ
Using peptide microarrays, the presence of natural antibodies against Aβ in plasma samples and cerebrospinal fluid of AD patients and healthy controls aged 21–89 years was reported [
9
]. Antibody reactivity was most prominent against oligomeric Aβ and pyroGlu or oxidized residues. Interestingly, IgG levels specific for oligomeric preparations of Aβ
1–42
declined with age and AD progression. In good agreement, we have observed that the levels of pyroGlu-IgM autoantibodies significantly decreased in AD patients as compared to non-demented controls [
57
]. In the group of mild cognitive impaired patients there was a significant positive correlation between pyroGlu-IgM autoantibodies and cognitive performance, i.e. individuals with high levels of pyroGlu-IgM autoantibodies obtained higher scores in the Mini Mental State Examination test battery.
N-truncated Aβ as a target for immunotherapy
In contrast to Aβ
1–42
, N-truncated pyroglutamate Aβ
3–42
and Aβ
4–42
peptides are not produced under normal, non-disease conditions. Pyroglutamate Aβ
3–42
and Aβ
4–42
form soluble aggregates and are toxic in vitro and in vivo. On the basis of these empirical data, we formulated a novel hypothesis on the role of soluble aggregates of pyroglutamate Aβ
3–42
and Aβ
4–42
(Fig.
3
).
×
Pyroglutamate Aβ3–X as a target
Aβ4–x as a target
Although first identified in 1985 [
58
], Aβ
4–x
has not received much attention as a potential therapeutic target. McLaurin et al. [
60
] have performed an active immunization approach in TgCRND8 transgenic mice using protofibrillar Aβ
1–42
peptides. The mice developed robust titers against Aβ and the sera isolated from these mice stained mature, but not diffuse plaques in TgCRND8 mice. The therapeutically active antibodies were subsequently isolated and characterized. Interestingly, although protofibrillar Aβ
1–42
was used as vaccine, beneficial effects in mice arose from antibodies selectively directed against residues 4–10 of Aβ42. These antibodies inhibited both Aβ fibrillogenesis and cytotoxicity without eliciting an inflammatory response.
We have recently generated the Aβ
4–x
-specific antibody NT4X-167 [
3
]. While NT4X-167 significantly rescued Aβ
4–42
toxicity in vitro, no beneficial effect was observed against Aβ
1–42
or Aβ
pE3–42
toxicity. Phenylalanine at position four of Aβ was imperative for antibody specificity, because its replacement with alanine or proline completely prevented binding. Although amyloid plaques were observed using NT4X-167 in 5XFAD transgenic mice, it barely reacted with plaques in the brain of sporadic AD patients and familial cases with the Arctic, Swedish and the presenilin-1 PS1Δ Exon9 mutation. Most interestingly, Aβ
4–x
preceded the occurrence of Aβ
pE3–x
in the 5XFAD mouse model.
Overall, we would suggest that N-truncated pyroglutamate Aβ
3–42
and Aβ
4–42
peptides represent ideal therapeutic targets to fight AD for the following reasons: (1) they are produced only in diseased brain and not normal brain; (2) they aggregate quickly and irreversibly into soluble toxic oligomers; (3) only slowly react further into inert amorphous fibrils (Fig.
3
); (4) are seeding aggregation of Aβ
1–40
and Aβ
1–42
. It is worthy of note that the mechanisms discussed in this review are not exclusive and may overlap under certain circumstances. Moreover, different stages of the disease may be associated with one particular mechanism more so than the other [
49
].
In summary, we conclude that
There is strong evidence that full-length Aβ peptides serve a physiological function in long-term depression and are tightly regulated during day and night in the interstitial fluid in healthy individuals.

N-truncated Aβ variants correlate well with presymptomatic AD with Ala-2, pyrGlu-3, Phe-4, Arg-5, Ser-8 and Gly-9 often reported, but predominantly pyroGlu-3 and Phe-4.

There is general agreement that N-truncated Aβ peptides are abundant in brains of patients with diagnosed sporadic and familial AD. Of the N-truncated variants pyroGlu-3 and Phe-4 truncations were most consistently reported.

APP transgenic mouse models generate N-truncated Aβ peptides, albeit at quite low levels not reflecting the situation in AD brain.

Transgenic mouse models that solely express AβpE3–42 (Glu-3 mutated to Gln-3 in order to facilitate pyroGlu-3 formation) consistently develop neuron loss and associated neurological deficits. Plaque load is low.

The transgenic mouse model Tg4–42 expressing Aβ4–42 is the first model to harbor no mutation in the Aβ sequence and develops an age-dependent hippocampus-related reference memory deficits in the Morris water maze due to the drastic CA1 neuron loss. No plaque pathology is observed.

AβpE3–42 and Aβ4–42 rapidly form soluble toxic aggregates in vitro having different biochemical properties than full-length Aβ1–42.

Antibodies reacting with the N-terminus of pyroGlu-3 and Phe-4 recognize neoepitopes distinctly different from antibodies reacting with full-length Aβ peptides.

Passive immunization with antibodies against pyroGlu-3 of transgenic mouse models demonstrated beneficial effects: no risk for microbleedings, lower pyroGlu-3 Aβ levels and reduction of pre-existing amyloid plaques.
Acknowledgments
We thank Dr. Janet Brownlees (MRC Technology, London, UK) for excellent proof-reading and editing the manuscript.
Conflict of interest
The authors have submitted patent applications for the Tg4–42 AD model and antibodies against N-truncated Aβ for AD therapy.
Open Access
This article is distributed under the terms of the Creative Commons Attribution License which permits any use, distribution, and reproduction in any medium, provided the original author(s) and the source are credited.