02.01.2021 | Original Article | Ausgabe 3/2021 Open Access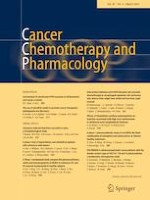 FOLFIRINOX in advanced pancreatic cancer patients with the double-variant type of UGT1A1 *28 and *6 polymorphism: a multicenter, retrospective study
Zeitschrift:
Autoren:

Kumiko Umemoto, Hideaki Takahashi, Chigusa Morizane, Ikuhiro Yamada, Satoshi Shimizu, Kazuhiko Shioji, Yukio Yoshida, Masayo Motoya, Nobumasa Mizuno, Yasushi Kojima, Takeshi Terashima, Kazuhiro Uesugi, Makoto Ueno, Junji Furuse, Tetsuo Akimoto, Masafumi Ikeda
Wichtige Hinweise
Publisher's Note
Springer Nature remains neutral with regard to jurisdictional claims in published maps and institutional affiliations.
Abstract
Background
UGT1A1 *28 and *6 polymorphism is associated with reduced enzyme activity and severe toxicities of irinotecan, especially in patients with homozygous or heterozygous for UGT1A1*28 or *6 polymorphism for both UGT1A1*28 and *6 (double-variant-type of UGT1A1 polymorphism, UGT1A1-DV). FOLFIRINOX is one of the standard treatments for metastatic pancreatic cancer (PC). The optimal dose of irinotecan as a component of the FOLFIRINOX has not been established yet for patients with UGT1A1-DV.
Patients and methods
Advanced PC patients with UGT1A1-DV who had received at least one cycle of FOLFIRINOX from December 2013 to March 2016 were collected retrospectively conducted at multicenter in Japan. We evaluated the patient characteristics, efficacy and safety of FOLFIRINOX and investigate the optimal initial dose of irinotecan in Japanese advanced PC patients with UGT1A1-DV.
Results
A total of 31 patients were enrolled. Grade 4 neutropenia was seen more frequently (67%; 4/6) in patients who had received irinotecan at an initial dose of  ≥ 150 mg/m2 than in those who had received the drug at an initial dose of  ≤ 120 mg/m2 (20%; 5/24). The response rate (RR) and progression-free survival (PFS) in patients given irinotecan of  ≤ 120 mg/m2 were 21.4% and 8.1 months, respectively, which were consistent with previous report for patients without UGT1A1-DV.
Conclusion
Based on our findings, we recommend that in Japanese advanced PC patients with UGT1A1- DV treated with FOLFIRINOX, irinotecan be administered at an initial dose of  ≤ 120 mg/m2.