12.07.2018 | Reproductive Physiology and Disease | Ausgabe 10/2018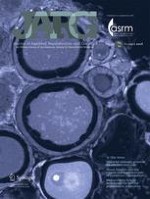 Follicular factors determining granulosa cell number and developmental competence of porcine oocytes
Zeitschrift:
Autoren:

Yasuhisa Munakata, Manami Ueda, Ryoka Kawahara-Miki, Kazuki Kansaku, Nobuhiko Itami, Koumei Shirasuna, Takehito Kuwayama, Hisataka Iwata
Wichtige Hinweise
Manami Ueda made equal contributions as first author.
Abstract
Purpose
Granulosa cell (GC) number in follicles is a simple characteristic of follicles. The present study examined the hypothesis that follicular fluid (FF) determines GC number and oocyte developmental ability and revealed the molecular background determining the number of follicular GCs.
Methods
FF was collected from antral follicles (3–5 mm in diameter), after which the number of GCs per follicle was determined for each donor gilt using real time PCR targeting single copy gene. GCs were analyzed by next-generation RNA sequencing and IPA pathway analysis.
Results
When oocyte cumulus cell-oocyte-complexes (COCs) were cultured in maturation medium containing 10% of each individual FF, the rate of development to the blastocyst stage was significantly correlated with the number of GCs in the donor gilt. In addition, when GCs were cultured in medium containing FF, the proliferative activity of the GCs was also significantly correlated to the number of GCs in the donor gilt. Moreover, when the FFs were categorized based on the number of GCs in the follicle, it was found that supplementation of culture media with GC-rich FF improved the developmental ability of oocytes compared to those supplemented with GC-poor FF. RNA sequencing and a pathway analysis of GCs from GC-rich and -poor follicles revealed the key regulatory pathway determining GC number in follicles.
Conclusion
GC number may be a useful marker for "good" follicles and oocytes, and the characteristics of the FFs determine granulosa cell number and oocyte developmental ability.