01.12.2017 | Review | Ausgabe 1/2017 Open Access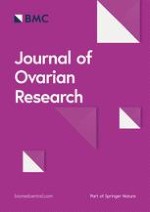 Follicular Fluid redox involvement for ovarian follicle growth
Zeitschrift:
Autoren:

Cláudia Freitas, Ana Catarina Neto, Liliana Matos, Elisabete Silva, Ângela Ribeiro, João Luís Silva-Carvalho, Henrique Almeida
Abstract
As the human ovarian follicle enlarges in the course of a regular cycle or following controlled ovarian stimulation, the changes in its structure reveal the oocyte environment composed of cumulus oophorus cells and the follicular fluid (FF).
In contrast to the dynamic nature of cells, the fluid compartment appears as a reservoir rich in biomolecules. In some aspects, it is similar to the plasma, but it also exhibits differences that likely relate to its specific localization around the oocyte. The chemical composition indicates that the follicular fluid is able to detect and buffer excessive amounts of reactive oxygen species, employing a variety of antioxidants, some of them components of the intracellular milieu.
An important part is played by albumin through specific cysteine residues. But the fluid contains other molecules whose cysteine residues may be involved in sensing and buffering the local oxidative conditions. How these molecules are recruited and regulated to intervene such process is unknown but it is a critical issue in reproduction.
In fact, important proteins in the FF, that regulate follicle growth and oocyte quality, exhibit cysteine residues at specific points, whose untoward oxidation would result in functional loss. Therefore, preservation of controlled oxidative conditions in the FF is a requirement for the fine-tuned oocyte maturation process. In contrast, its disturbance enhances the susceptibility to the establishment of reproductive disorders that would require the intervention of reproductive medicine technology.