01.12.2014 | Clinical Article - Brain Tumors | Ausgabe 12/2014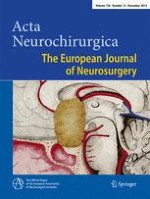 Follow-up and long-term outcome of nonfunctioning pituitary adenoma operated by transsphenoidal surgery with intraoperative high-field magnetic resonance imaging
Zeitschrift:
Autoren:

Sven Berkmann, Sven Schlaffer, Christopher Nimsky, Rudolf Fahlbusch, Michael Buchfelder
Wichtige Hinweise
Comment
This paper has an important message: residual adenomas from transsphenoidal surgery recur whether a microscope or an endoscope is used, and if one uses an iMRI, there will be fewer residuals in one's personal series, and thus fewer recurrences. Many experienced transsphenoidal surgeons have found the extra time required for iMRI irksome and therefore not worth it. This paper suggests they should try iMRI again.
Michael Powell
London,UK
Abstract
Background
Intraoperative MRI (iMRI) increases gross total resection (GTR) rates in transsphenoidal surgery; however, long-term follow-up data is lacking. The objective is to assess the outcome of patients with nonfunctioning pituitary adenomas (NFA) at a mean follow-up of > 5 years.
Methods
Patients with NFA operated in a single institution with resection control by a 1.5 T intraoperative magnetic resonance imaging (iMRI) scanner and no previous pituitary surgery were included. Microscopical transsphenoidal approaches with optional endoscopy were used. The iMRI was chosen for spacious suprasellar or retrosellar and/or invasive tumours. IMRI-scans were made if GTR or if nonresectable remnants were presumed. The patients had a full neuroradiological, endocrinological and ophthalmological follow-up at the institution.
Results
Eighty-five patients (67 % male;55 ± 14 years) with a follow-up of 5.6 ± 1.9 years were included. The initial GTR rate on iMRI was 44 %. In 83 %, further resections were possible, resulting in a final GTR rate of 66 %. In invasive tumours, the GTR rate was increased by 29 %. The detection of remnants by iMRI had high sensitivity and specificity (100 %), as opposed to endoscopy (21 %;78 %). During follow-up, four (7 %) tumours recurred and 14 (64 %) remnants grew. The recurrence and regrowth rate were 0.013 and 0.114 patients/years, respectively. Seventy-nine percent of the growing remnants were seen < 5 years postoperatively.
Conclusions
The use of iMRI for transsphenoidal resection leads to low recurrence rates. Even in case of invasive tumours, distinctly more patients show long tumour-free follow-ups. Tumour remnants detected by iMRI are at high risk to grow within 5 years after surgery.