01.12.2016 | Case report | Ausgabe 1/2016 Open Access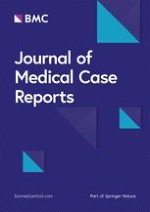 Foreign body in the appendix presenting as acute appendicitis: a case report
Zeitschrift:
Autoren:

Carlson B. Sama, Leopold N. Aminde, Tsi N. Njim, Fru F. Angwafo III
Background
Worldwide, appendicectomy for acute appendicitis is the most common emergency surgical procedure [
1
,
2
]. The ingestion of inedible and indigestible objects is frequent in children; in adults it is a rare condition that often occurs accidentally, or it can occur in patients with mental disorders or in prisoners [
3
,
4
]. The presence of a foreign body (FB) in the appendix, acting as a cause of an inflammatory process, is a very rare event [
5
]. Here we present a rare case of an appendicectomy indicated for acute appendicitis due to an accidental ingestion of an unusual FB which is apparently the first case of its kind published in the literature.
Case presentation
A 26-year-old Sub-Saharan woman presented to our unit with a 1-week history of vague colicky lower abdominal pains occasionally radiating to her right iliac fossa (RIF), which progressively increased in intensity over the last 4 days and localized to her RIF. She also developed nausea and anorexia but reported no episodes of vomiting. She took self-prescribed doses of ibuprofen with no relief, prompting a consult at our health unit.
On examination, she had a temperature of 38.2 °C, respiratory rate of 14 breaths per minute, pulse of 78 beats per minute, and her blood pressure was 110/82 mmHg. There was tenderness and guarding on palpation of her RIF and a positive Rovsing's sign. There was no palpable mass and her bowel sounds were normal. A vaginal examination revealed right adnexal tenderness. The rest of the examination was unremarkable. A white blood cell count showed a leucocytosis of 12,500cells/mm
3
with a neutrophilic predominance of 10,500cells/mm
3
. A working diagnosis of acute appendicitis was suggested based on an Alvarado score of 9/10. An abdominal ultrasound scan was requested which revealed a thickened appendiceal wall and fluid collection around her RIF. No FB was identified. She was prepared for emergency surgery. Via a gridiron incision, her appendix was found to be inflamed and an appendectomy was performed. No intraoperative complication occurred and her abdomen was closed in layers. Due to an unusual feel, we blindly dissected the resected appendix and found an incomplete piece of a rubbery material which was consistent with a condom (Fig.
1
). The postoperative period was uneventful and she was discharged on postoperative day 4.
×
Discussion
There is a need to increase awareness of the potential dangers of ingested FBs. Each time such incidents occur, it is advisable patients report promptly for proper evaluation and follow-up until the FB is properly traced as it may account for significant morbidity and mortality.
Conclusions
Foreign bodies are rare causes of appendicitis. A wide variety of objects can be trapped in the appendix. Our case demonstrates a rare clinical scenario in which an unusual FB became lodged in the appendix and eventually initiated an inflammatory process which resulted in acute appendicitis.
Acknowledgments
We would like to thank the nurses who took part in the care of the patient.
Authors' contributions
CBS contributed to management and wrote the manuscript. LNA and TNN contributed to acquisition of data and revision of manuscript. FFA critically revised the manuscript. All authors read and approved the final manuscript.
Competing interests
The authors declare that they have no competing interests.
Consent
Written informed consent was obtained from the patient for publication of this case report and accompanying images. A copy of the written consent is available for review by the Editor-in-Chief of this journal.
Open Access
This article is distributed under the terms of the Creative Commons Attribution 4.0 International License (
http://​creativecommons.​org/​licenses/​by/​4.​0/​
), which permits unrestricted use, distribution, and reproduction in any medium, provided you give appropriate credit to the original author(s) and the source, provide a link to the Creative Commons license, and indicate if changes were made. The Creative Commons Public Domain Dedication waiver (
http://​creativecommons.​org/​publicdomain/​zero/​1.​0/​
) applies to the data made available in this article, unless otherwise stated.