10.07.2020 | Original Paper | Ausgabe 1/2021 Open Access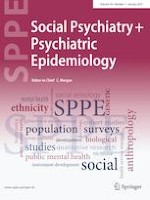 Forensic mental health in Europe: some key figures
Zeitschrift:
Autoren:

Jack Tomlin, Ilaria Lega, Peter Braun, Harry G. Kennedy, Vicente Tort Herrando, Ricardo Barroso, Luca Castelletti, Fiorino Mirabella, Franco Scarpa, Birgit Völlm, the experts of COST Action IS1302
Wichtige Hinweise
Electronic supplementary material
The experts of COST Action IS1302 are listed in Acknowledgements.
Abstract
Purpose
While the number of forensic beds and the duration of psychiatric forensic psychiatric treatment have increased in several European Union (EU) states, this is not observed in others. Patient demographics, average lengths of stay and legal frameworks also differ substantially. The lack of basic epidemiological information on forensic patients and of shared indicators on forensic care within Europe is an obstacle to comparative research. The reasons for such variation are not well understood.
Methods
Experts from seventeen EU states submitted data on forensic bed prevalence rates, gender distributions and average length of stay in forensic in-patient facilities. Average length of stay and bed prevalence rates were examined for associations with country-level variables including Gross Domestic Product (GDP), expenditure on healthcare, prison population, general psychiatric bed prevalence rates and democracy index scores.
Results
The data demonstrated substantial differences between states. Average length of stay was approximately ten times greater in the Netherlands than Slovenia. In England and Wales, 18% of patients were female compared to 5% in Slovenia. There was a 17-fold difference in forensic bed rates per 100,000 between the Netherlands and Spain. Exploratory analyses suggested average length of stay was associated with GDP, expenditure on healthcare and democracy index scores.
Conclusion
The data presented in this study represent the most recent overview of key epidemiological data in forensic services across seventeen EU states. However, systematically collected epidemiological data of good quality remain elusive in forensic psychiatry. States need to develop common definitions and recording practices and contribute to a publicly available database of such epidemiological indicators.