01.12.2009 | Research article | Ausgabe 1/2009 Open Access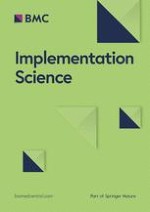 Fostering implementation of health services research findings into practice: a consolidated framework for advancing implementation science
Zeitschrift:
Autoren:

Laura J Damschroder, David C Aron, Rosalind E Keith, Susan R Kirsh, Jeffery A Alexander, Julie C Lowery
Wichtige Hinweise
Electronic supplementary material
The online version of this article (doi:
10.​1186/​1748-5908-4-50
) contains supplementary material, which is available to authorized users.
Competing interests
The authors declare that they have no competing interests.
Authors' contributions
LJD and JCL conceived of the paper. LJD drafted the initial form and all revisions of this paper. All other authors (JCL, REK, DCA, SRK, JAA) made significant contributions to the conceptual framework and read and modified drafts. All authors read and approved the final manuscript.
'To see far is one thing, going there is another' Constantin Brancusi, 1876–1957
Background
Many interventions found to be effective in health services research studies fail to translate into meaningful patient care outcomes across multiple contexts. In fact, some estimates indicate that two-thirds of organizations' efforts to implement change fail [
1
]. Barriers to implementation may arise at multiple levels of healthcare delivery: the patient level, the provider team or group level, the organizational level, or the market/policy level [
2
]. Researchers must recognize the need to evaluate not only summative endpoint health outcomes, but also to perform formative evaluations to assess the extent to which implementation is effective in a specific context to optimize intervention benefits, prolong sustainability of the intervention in that context, and promotes dissemination of findings into other contexts [
3
]. Health services researchers are increasingly recognizing the critical role of implementation science [
4
]. For example, the United States Veterans Health Administration (VHA) established the Quality Enhancement Research Initiative (QUERI) in 1998 to 'systematically [implement]...clinical research findings and evidence-based recommendations into routine clinical practice' [
5
,
6
] and The National Institute for Health Research Service Delivery and Organisation Program was established to '...promote the uptake and application of...evidence in policy and practice' in the United Kingdom.
Many implementation theories to promote effective implementation have been described in the literature but have differing terminologies and definitions. A comparison of theories reveals considerable overlap, yet each is missing one or more key constructs included in other theories. A comprehensive framework that consolidates constructs found in the broad array of published theories can facilitate the identification and understanding of the myriad potentially relevant constructs and how they may apply in a particular context. Our goal, therefore, is to establish the Consolidated Framework for Implementation Research (CFIR) that comprises common constructs from published implementation theories. We describe a theoretical framework that embraces, not replaces, the significant and meaningful contribution of existing research related to implementation science.
The CFIR is 'meta-theoretical'–it includes constructs from a synthesis of existing theories, without depicting interrelationships, specific ecological levels, or specific hypotheses. Many existing theories propose 'what works' but more research is needed into what works where and why [
7
]. The CFIR offers an overarching typology–a list of constructs to promote theory development and verification about what works where and why across multiple contexts. Researchers can select constructs from the CFIR that are most relevant for their particular study setting and use these to guide diagnostic assessments of implementation context, evaluate implementation progress, and help explain findings in research studies or quality improvement initiatives. The CFIR will help advance implementation science by providing consistent taxonomy, terminology, and definitions on which a knowledge base of findings across multiple contexts can be built.
Methods
Developing a comprehensive framework is more challenging than simply combining constructs from existing theories. We have carefully reviewed terminology and constructs associated with published theories for this first draft of the CFIR. In the process of standardizing terminology, we have combined certain constructs across theories while separating and delineating others to develop definitions that can be readily operationalized in implementation research studies.
With few exceptions, we limited our review to theories that were developed based on a synthesis of the literature or as part of a large study. Our search for implementation theories was not exhaustive but we did reach 'theme saturation': the last seven models we reviewed did not yield new constructs, though some descriptions were altered slightly with additional insights. We expect the CFIR to continue to evolve as researchers use the CFIR and contribute to the knowledge base.
It is important to note the last clause: The CFIR specifies a list of constructs within general domains that are believed to influence (positively or negatively, as specified) implementation, but does not specify the interactions between those constructs. The CFIR does provide a pragmatic organization of constructs upon which theories hypothesizing specific mechanisms of change and interactions can be developed and tested empirically.
Results
Discussion
Process theories can be used to guide how implementation should be planned, organized, and scheduled, and impact theories can be used to develop hypotheses about how implementation activities will facilitate a desired change[
23
] The CFIR is a pragmatic meta-theoretical framework that can be used to complement these theories with its comprehensive taxonomy of specific constructs related to the intervention, inner and outer setting, individuals, and implementation process. For example, the CFIR complements a process theory published by Pronovost and colleagues from the Johns Hopkins Quality and Safety Research Group for large-scale translation of scientific evidence into practice that encompasses four major steps [
80
]. The second step in this process theory is to identify local barriers to implementation without specifying what those barriers may be; the CFIR provides a list of constructs to consider. The RE-AIM framework is used to guide comprehensive evaluation of interventions in terms of Reach, Effectiveness, Adoption, Implementation, and Maintenance (sustainability) [
85
]. The CFIR opens the 'black box' of the 'I' (implementation) component.
The constructs described in the CFIR represent a beginning foundation for understanding implementation. Implementation researchers should assess each construct for salience, carefully adapt and operationalize definitions for their study (paying special attention to sometimes indistinct boundaries between constructs), discern the level(s) at which each should be evaluated and defined (
e.g
., individuals, teams, units, clinics, medical centers, regions), decide how to measure and assess, and be aware of the time points at which measurement and evaluation occurs while acknowledging the transient nature of the state of each of these contextual factors. Each decision and rationale should be documented along with findings related to each construct.
An example of the importance of discerning the different levels at which constructs apply is a study conducted by Van Deusen Lukas and colleagues who found that 'clinic team knowledge and skills' was associated with effective implementation [
58
]. They assessed team knowledge and skills by surveying individual staff members and then aggregating to the team level as one unit of analysis in predictive models. Their final model found significant contextual factors at the system (external policy and incentives), facility (management support), and team (knowledge and skills) levels. As findings accumulate into knowledge across study contexts, implementation researchers will understand more about what works where and why and be better able to predict implementation effectiveness across disparate contexts.
The CFIR can be used to guide formative evaluations. Mendel
et al
.'s framework of dissemination describes three phases of evaluation (capacity/needs assessment, implementation/process evaluation, and outcome/impact evaluation) in an intervention study or program evaluation [
26
] (similar phases are also described by Stetler
et al
. [
3
] as diagnostic analysis, implementation- and progress-focused evaluations, and interpretive evaluation). Prior to implementation, capacity and needs assessments are done to identify potential barriers and facilitators to implement from the perspective of the individuals and organizations involved in the implementation. The CFIR provides a list of explicitly defined constructs for which data can be collected. It is important, however, that the CFIR not be applied wholesale to every problem. The long list of constructs, each with their own level of 'maturity' in definition and operability, can quickly mire evaluations. Rather, each construct should be evaluated strategically, in the context of the study or evaluation, to determine those that will be most fruitful to study [
17
] or that are necessary to properly adapt the intervention to the setting. For example, in a current implementation study, we are assessing the benefits of an intervention designed to improve blood pressure management for patients with diabetes. Before implementation, we chose salient constructs to guide our capacity/needs assessment which revealed differences between sites. This information was used to guide adaptation of the intervention and to develop implementation plans for each site. A simple example of adaptation is the difference in protocols across study sites for obtaining blood pressure cuffs for patients.
During implementation, it is important to monitor progress for unanticipated influences (barriers or facilitators) and progress toward implementation goals. In our blood pressure management study, baseline findings from our pre-implementation assessments led us to closely monitor whether the intervention pharmacists had ongoing and timely access to the information they needed for their patient encounters (Access to Information and Knowledge). We discovered, during the intervention, that slow-running software at one site was interfering with the clinical pharmacist's ability to communicate efficiently with patients during encounters and we were able to facilitate a timely solution. Pre-implementation assessments have allowed us to target collection of real-time data as implementation progresses to track key implementation processes, so that we can address problems before they threaten the intervention's viability. Findings are mapped to specific CFIR constructs (e.g., access to information and knowledge)
The third type of evaluation described in Mendel et al.'s model is outcome and impact evaluation. Post-implementation, the CFIR can be used to guide exploration into the question of what factors influenced implementation and how implementation influenced performance of the intervention. For example, the CFIR can be used to assess changes in the inner setting (e.g., leadership engagement) as a result of implementation the co-evolution that often occurs through effective implementation [
20
]. At all three evaluation stages, the CFIR provides a framework by which to understand the dynamic, multi-level, transient nature of implementation in specific contexts and to organize and communicate findings across contexts.
At a macro level, the CFIR can be used to organize and promote synthesis of research findings, studies, and settings [
26
] using clear and consistent language and terminology, which will further stimulate theory development. The Consolidated Standards of Reporting Trials (CONSORT) Trial Bank Project was developed to do this for clinical trials by capturing study design, execution details, and results from randomized clinical trials in a form that promotes synthesis of results from multiple studies [
86
]. The recently published Standards for QUality Improvement Reporting Excellence (SQUIRE) guidelines are designed to promote knowledge-building for implementation and quality improvement studies by standardizing how findings from these studies are reported. The SQUIRE guidelines take into account two essential considerations missing from the CONSORT guidelines but essential for implementation studies: 'reflexivity' and setting [
15
]. The guidelines suggest that authors specify, '...how elements of the local care environment considered most likely to influence change/improvement in the involved site or sites were identified and characterized' [
15
]. Constructs included in the CFIR can be used to explicate those elements more consistently across studies.
The ultimate judgment of the CFIR's utility and validity can be discerned by coalescing answers to three questions over time [
12
]:
1.
Is terminology and language coherent?
2.
Does the CFIR promote comparison of results across contexts and studies over time?
3.
Does the CFIR stimulate new theoretical developments?
If answers to all three questions are yes, then we are on the right path.
Conclusion
The CFIR provides a pragmatic structure for identifying potential influences on implementation and organizing findings across studies. It embraces, consolidates, standardizes, and unifies constructs shown to be associated with implementation from other published implementation theories. The CFIR can be used to help guide formative evaluations of interventions in context and offers an organizational framework for synthesizing and building knowledge about what works where, across multiple settings. We propose the CFIR as a means by which to see far; a road-map for the journey of accumulating an ever more rich understanding of the complexities of implementation, and a more predictable means by which to ensure effective implementations.
Acknowledgements
We gratefully acknowledge thoughtful comments we received on earlier drafts from Cheryl Stetler, Jane Banaszak-Holl, and Carol VanDeusen Lukas. Their comments and dialogue helped strengthen the paper. In addition, the insightful depth reflected in comments provided by the reviewers also considerably strengthened the paper.
This article is published under license to BioMed Central Ltd. This is an open access article distributed under the terms of the Creative Commons Attribution License (
http://​creativecommons.​org/​licenses/​by/​2.​0
), which permits unrestricted use, distribution, and reproduction in any medium, provided the original work is properly cited.
Competing interests
The authors declare that they have no competing interests.
Authors' contributions
LJD and JCL conceived of the paper. LJD drafted the initial form and all revisions of this paper. All other authors (JCL, REK, DCA, SRK, JAA) made significant contributions to the conceptual framework and read and modified drafts. All authors read and approved the final manuscript.