23.11.2016 | Translational Research and Biomarkers | Ausgabe 11/2017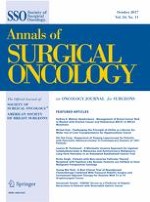 Fra-1 Regulates the Expression of HMGA1, Which is Associated with a Poor Prognosis in Human Esophageal Squamous Cell Carcinoma
Zeitschrift:
Autoren:

MD, PhD Takeshi Toyozumi, MD, PhD Isamu Hoshino, MD Masahiko Takahashi, MD, PhD Akihiro Usui, MD, PhD Yasunori Akutsu, MD, PhD Naoyuki Hanari, MD, PhD Kentaro Murakami, MD, PhD Masayuki Kano, MD, PhD Naoki Akanuma, MD Hiroshi Suitoh, MD Yasunori Matsumoto, MD Nobuhumi Sekino, PhD Aki Komatsu, MD, PhD Hisahiro Matsubara
Wichtige Hinweise
Electronic supplementary material
The online version of this article (doi:
10.​1245/​s10434-016-5666-5
) contains supplementary material, which is available to authorized users.
Abstract
Background
The expression of Fos-related antigen 1 (Fra-1) affects tumor progression, migration, and invasion. In this study, we identified the genes regulated by Fra-1 in esophageal squamous cell carcinoma (ESCC).
Methods
We constructed Fra-1 knockdown models via the transfection of small interfering RNA (siRNA) into ESCC cell lines (TE10, TE11). The expression levels of the genes in the knockdown models were analyzed using a microarray and a Biobase Upstream Analysis, while the expression levels of the candidate genes in the primary tumors of surgical specimens obtained from ESCC patients were determined using real-time polymerase chain reaction (PCR) and immunohistochemical staining. The clinicopathological features were then analyzed.
Results
The Biobase Upstream Analysis showed the high-mobility-group protein-1 (HMGA1) to be a significant gene regulated by Fra-1. Actual binding of Fra-1 to the promotor region of HMGA1 was revealed in subsequent chromatin immunoprecipitation PCR experiments. Patients with a positive HMGA1 expression had a poor prognosis, and a multivariate analysis demonstrated a positive HMGA1 expression to be a significant independent prognostic factor.
Conclusion
HMGA1 is regulated by Fra-1 in ESCC, and the HMGA1 expression is significantly associated with a poor prognosis in ESCC patients. Downregulation of the HMGA1 expression may become a practical treatment strategy against ESCC in the future.