09.11.2018 | Original Article - Functional Neurosurgery - Epilepsy | Ausgabe 12/2018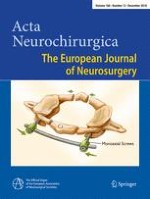 Frameless robot-assisted stereoelectroencephalography for refractory epilepsy in pediatric patients: accuracy, usefulness, and technical issues
Zeitschrift:
Autoren:

Santiago Candela-Cantó, Javier Aparicio, Jordi Muchart López, Pilar Baños-Carrasco, Alia Ramírez-Camacho, Alejandra Climent, Mariana Alamar, Cristina Jou, Jordi Rumià, Victoria San Antonio-Arce, Alexis Arzimanoglou, Enrique Ferrer
Wichtige Hinweise
Electronic supplementary material
This article is part of the Topical Collection on
Functional Neurosurgery - Epilepsy
Comments
The authors describe their initial clinical experience after performing robot- assisted-stereo-EEG in pediatric cohort of 14 patients. Prospective data concerning complications, usefulness, and accuracy have been collected and evaluated. Additionally, the authors discuss the problems and obstacles they have encountered during the establishment of an robotic arm. They also propose different solutions, which may help other centers overcome the initial difficulties with this technique. This is an obviously honest paper concerning a demanding group of pediatric epilepsy patients, who need invasive presurgical monitoring. As the authors state by themselves, ""they intend to describe the surgical technique"" and the provided technical information can be very valuable for other centers starting to use a robotic arm. I am concerned about the number of CT scans associated with this procedure, especially in a pediatric population. At least three scans are needed (preoperative CT angio, during the procedure, and postoperatively) and in some cases with fiducial displacement even more scans may be required. The authors commented on these issues, but to my mind it remains an issue. Thus, further development should also aim for further reduction of radiation in such procedures.
Hans Clusmann
Aachen, Germany
Abstract
Background
Stereoelectroencephalography (SEEG) is an effective technique to help to locate and to delimit the epileptogenic area and/or to define relationships with functional cortical areas. We intend to describe the surgical technique and verify the accuracy, safety, and effectiveness of robot-assisted SEEG in a newly created SEEG program in a pediatric center. We focus on the technical difficulties encountered at the early stages of this program.
Methods
We prospectively collected SEEG indication, intraoperative events, accuracy calculated by fusion of postoperative CT with preoperative planning, complications, and usefulness of SEEG in terms of answering preimplantation hypothesis.
Results
Fourteen patients between the ages of 5 and 18 years old (mean 10 years) with drug-resistant epilepsy were operated on between April 2016 and April 2018. One hundred sixty-four electrodes were implanted in total. The median entry point localization error (EPLE) was 1.57 mm (1–2.25 mm) and the median target point localization error (TPLE) was 1.77 mm (1.2–2.6 mm). We recorded seven intraoperative technical issues. Two patients suffered complications: meningitis without demonstrated germ in one patient and a right frontal hematoma in the other. In all cases, the SEEG was useful for the therapeutic decision-making.
Conclusion
SEEG has been useful for decision-making in all our pediatric patients. The robotic arm is an accurate tool for the insertion of the deep electrodes. Nevertheless, it is an invasive technique not risk-free and many problems can appear at the beginning of a robotic arm-assisted SEEG program that must be taken into account beforehand.