14.06.2016 | Short Communication | Ausgabe 8/2016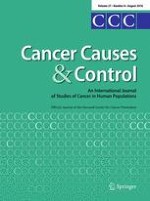 Framing research for state policymakers who place a priority on cancer
Zeitschrift:
Autoren:

Ross C. Brownson, Elizabeth A. Dodson, Jon F. Kerner, Sarah Moreland-Russell
Abstract
Purpose
Despite the potential for reducing the cancer burden via state policy change, few data exist on how best to disseminate research information to influence state legislators' policy choices. We explored: (1) the relative importance of core framing issues (source, presentation, timeliness) among policymakers who prioritize cancer and those who do not prioritize cancer and (2) the predictors of use of research in policymaking.
Methods
Cross-sectional data were collected from US state policymakers (i.e., legislators elected to state houses or senates) from January through October 2012 (
n
= 862). One-way analysis of variance was performed to investigate the association of the priority of cancer variable with outcome variables. Multivariate logistic regression models examined predictors of the influence of research information.
Results
Legislators who prioritized cancer tended to rate characteristics that make research information useful higher than those who did not prioritize cancer. Among differences that were statistically significant were three items in the "source" domain (relevance, delivered by someone respected, supports one's own position), one item in the "presentation" domain (telling a story related to constituents) and two items in the "timeliness" domain (high current state priority, feasible when information is received). Participants who prioritized cancer risk factors were 80 % more likely to rate research information as one of their top reasons for choosing an issue on which to work.
Conclusions
Our results suggest the importance of narrative forms of communication and that research information needs to be relevant to the policymakers' constituents in a brief, concise format.