01.12.2015 | Research article | Ausgabe 1/2015 Open Access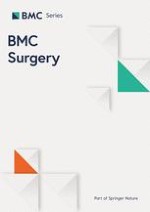 Frequency and severity of globus pharyngeus symptoms in patients undergoing thyroidectomy: a pre-post short term cross-sectional study
Zeitschrift:
Autoren:

Fabrizio Consorti, Rosaria Mancuso, Valentina Mingarelli, Eugenio Pretore, Alfredo Antonaci
Wichtige Hinweise
Competing interests
The authors declare that they have no competing interests.
Authors' contributions
FC designed the research and wrote the draft of the article, RM and EP did the interviews, VM did statistical calculations, AA gave the final approval, all authors discussed the results and contributed to the interpretation and discussion of results. All authors were also involved as members of the surgical team. All authors read and approved the final manuscript.
Abstract
Background
Globus pharyngeus is a sensation of a lump or foreign body in the throat, sometimes associated with thyroid diseases and surgery. Previous studies investigated this condition with contradictory results, mainly because not standardized instruments of measure were used. The aim of this study was to evaluate the prevalence and severity of globus pattern symptoms in a population of patients three months after a thyroidectomy, and the reduction or increase of pre-existing symptoms or the onset of new symptoms.
Methods
Ninety-five patients (65 women, 30 men, mean age 56.03 ± 12.45) were assessed for globus pattern symptoms before and three months after thyroid surgery (72 patients: benign goiter, 23 patients: papillary cancer). The Glasgow-Edinburgh Throat Scale (GETS) was translated into Italian and used as a validated instrument of measure of the severity of globus pattern symptoms.
Results
The Italian version of the GETS was reliable (Cronbach alpha = 0.85) and valid. Normative data were used to classify patients into 4 groups of severity. A significant decrease of the mean GETS score was observed at the postoperative assessment (13.02 ± 11.84 vs 8.00 ± 11.26; p < 0.01), but beside symptomatic patients who improved we could observe also two other significant groups of patients: asymptomatic patients who developed symptoms and symptomatic patients who remained symptomatic.
Conclusions
The significant decrease of the mean GETS postoperative score was mainly due to the improvement of strongly symptomatic patients. Two other significant outcomes exist and further studies are needed to understand their pathophysiological mechanism.