03.01.2019 | Brief Report | Ausgabe 4/2019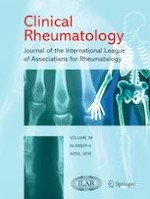 Frequency and spectrum of outpatient musculoskeletal diagnoses at a pediatric hospital in Kenya
Zeitschrift:
Autoren:

Rosie Scuccimarri, Laurel Broten, Angela Migowa, Thomas Ngwiri, John Wachira, Sasha Bernatsky, Carol Hitchon, Inés Colmegna
Wichtige Hinweise
Carol Hitchon and Inés Colmegna are co-senior authors.
Publisher's Note
Springer Nature remains neutral with regard to jurisdictional claims in published maps and institutional affiliations.
Abstract
Chronic pediatric musculoskeletal (MSK) conditions are a major cause of morbidity. The burden of pediatric rheumatic diseases in East Africa is largely unknown. The purposes of this study were to estimate frequencies and assess the spectrum of MSK-related diagnoses using ICD-10 diagnostic codes among outpatients at a pediatric hospital in Kenya and to evaluate the accuracy of the assigned codes used for the 'arthropathies' category. All pediatric outpatient diagnoses classified under the ICD-10 codes for 'diseases of the MSK system and connective tissue' (M00-M99) recorded between January and December 2011 were extracted from the electronic medical record system at Gertrude's Children's Hospital (GCH). For each of the ten MSK disease categories, frequencies were calculated. The assigned ICD10 code for cases in the 'arthropathies' (M00-M25) category was assessed by two rheumatologists. MSK diagnoses (
n
 = 1078) accounted for 0.5% of all GCH outpatient consults available for analysis. 'Soft tissue disorders' were the most frequent MSK diagnoses (
n
 = 614, 57%), followed by 'arthropathies' (
n
 = 332, 30.8%), 'dorsopathies' (
n
 = 81, 7.5%), 'osteopathies and chondropathies' (
n
 = 39, 3.6%), and 'other' disorders (
n
 = 12, 1.1%). No patients were classified in the category of 'systemic connective tissue disorders'. In cases classified as 'arthropathies', there was poor agreement (Kappa 0.136) between the ICD10 code assigned by the treating physicians and that assigned by the rheumatologists. However, when the rheumatologists' classification was loosened, agreement was moderate (Kappa 0.533). This study provides estimates of the frequency of outpatient MSK diagnoses at a pediatric hospital in Kenya in 2011. MSK diagnoses were not rare. Despite limitations of administrative databases to estimate frequencies of specific diagnoses, they provide a snapshot of the overall burden and spectrum of MSK conditions.