01.12.2017 | Original Article | Ausgabe 6/2017 Open Access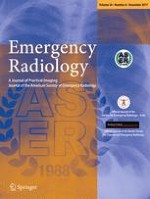 Frequency of acute longus colli tendinitis on CT examinations
Zeitschrift:
Autoren:

John Boardman, Emanuel Kanal, Patrick Aldred, Joseph Boonsiri, Chijindu Nworgu, Feng Zhang
Abstract
Purpose
We attempted to determine the frequency of acute longus colli tendinitis on diagnostic CT imaging performed at a large multicenter health care system. By correlating with the pre-imaging clinical information, we investigated which patient presentations should lead the radiologist to increased suspicion for this condition.
Methods
Images from a total of 8101 adult CT examinations of the neck and cervical spine performed over a 3-month period were evaluated by researchers independent of the original clinical report. Clinical information available at the time of imaging was reviewed and assigned to one of five categories. Frequency of the condition was calculated by sex and clinical presentation. This retrospective study with waiver of consent and waiver of HIPPA was approved by our IRB.
Results
Nine positive scans were found for an overall frequency of 1.1 per 1000 examinations. The frequency was significantly higher (11.4 per thousand) on scans performed of patients presenting without history of recent trauma, concern for tumor, suspected postoperative complication, or clinical signs of infection localized to the neck. Although frequency in males was higher than in females, this did not reach statistical significance. In no positive or negative case was longus colli tendinitis considered in the pre-imaging documentation.
Conclusions
Findings of acute longus colli tendinitis on CT examination generally occur in the absence of prior mention of this condition in the medical record. The radiologist should be particularly alert for this diagnosis when a patient presents with rapid-onset neck pain without a clear history of recent trauma or other etiologies.