08.09.2020 | Original Article | Ausgabe 1/2021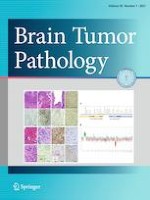 Frequency of mismatch repair protein deficiency and PD-L1 in high-grade gliomas in adolescents and young adults (AYA)
Zeitschrift:
Autoren:

Ghadeer Almuhaisen, Yazan Alhalaseh, Razan Mansour, Amer Abu-Shanab, Sura Al-Ghnimat, Maysa Al-Hussaini
Wichtige Hinweise
Publisher's Note
Springer Nature remains neutral with regard to jurisdictional claims in published maps and institutional affiliations.
Abstract
Central nervous system tumors in adolescents and young adults (AYA) are rarely reported in the literature. The association with cancer predisposition syndrome is not established. Programmed death ligand 1 (PD-L1) can predict the potential response of patients to immunotherapy. A link between mismatch repair protein deficiency (MMRP-D) and response to immunotherapy is established. P53 is reported to be positive in MMRD-D cases. We aim to investigate the frequency of MMRP-D in AYA with high-grade glioma and any potential association with PD-L1. A total of 96 cases were tested including 49 (51.0%) cases of glioblastoma. Six cases (6.25%) were MMRP-D, 17 (17.7%) were PD-L1 positive, mostly in grade IV tumors (8.7% in grade III compared to 26% in grade IV,
p
value = 0.027), and 69 (71.9%) were P3 positive. None of the MMRP-D cases expressed PD-L1. P53-positive cases were mostly MMRP proficient (
n
 = 67; 74.4%,
p
value 0.051). Fourteen cases (28.7%) were positive for both PD-L1 and P53, while p53-positive grade IV tumors were mostly associated with negative PD-L1 (
n
 = 29, 58%,
p
value = 0.043). MMRP deficiency does not appear to be prevalent in high-grade glioma in AYA. Expression of PD-L1 in a quarter of cases might suggest a role for immunotherapy in high-grade glioma.