29.03.2017 | Original Article | Ausgabe 4/2018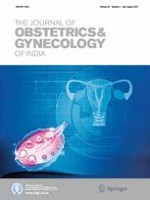 Frequency of Red Cell Alloantibodies in Pregnant Females of Navsari District: An Experience that Favours Inclusion of Screening for Irregular Erythrocyte Antibody in Routine Antenatal Testing Profile
Zeitschrift:
Autor:

Manoj Kahar
Wichtige Hinweise
Dr. Manoj Kahar is a Consultant Pathologist at Bhanumati Clinical Laboratory, Navsari, Gujarat, India.
Abstract
Background
Alloimmunisation due to irregular erythrocyte antibodies is a recognised cause of hemolytic disease of the fetus and newborn (HDFN). Prior knowledge of red cell alloimmunisation in pregnant females guides the obstetrician to monitor the foetus for HDFN and if required for appropriated intervention. As limited data are available on prevalence of red cell alloimmunisation in pregnant females in India, the current study was carried out to know the prevalence of red cell alloimmunisation in pregnant females coming at our laboratory.
Methods
Screening for irregular erythrocyte antibodies was performed in 1960 pregnant females after obtaining informed consent between June 2015 and June 2016. MatrixTM screening and identification reagent red cells from Tulip Diagnostics (P) Ltd were used, and column agglutination technique was employed as a method for the test.
Results
Twenty antibodies (all of single specificity) were detected in 1960 samples giving a prevalence rate of alloimmunisation of 1.02%. Out of the 20 antibodies, 18 were identified to be anti-D, 1 was anti-c and 1 antibody was anti-H. The results obtained were then compared with those reported in the literature.
Conclusion
Red cell alloimmunisation is not uncommonly observed in pregnant females; the information gained can help the obstetrician to identify high-risk cases to timely start antenatal and post-natal treatment. Obstetricians should request screening for irregular red cell antibody desirably in all pregnant females; however, if limiting factors are there, it should be done at least in select group of pregnant females having bad obstetric history.