01.12.2018 | Research | Ausgabe 1/2018 Open Access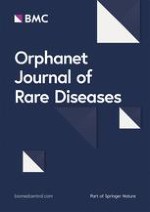 From motor performance to participation: a quantitative descriptive study in adults with autosomal recessive spastic ataxia of Charlevoix-Saguenay
Zeitschrift:
Autoren:

Cynthia Gagnon, Bernard Brais, Isabelle Lessard, Caroline Lavoie, Isabelle Côté, Jean Mathieu
Abstract
Background
Autosomal Recessive Spastic Ataxia of Charlevoix-Saguenay (ARSACS) is a recessive neurological disorder with cerebellar, pyramidal and neuropathic features. Natural history data are urgently needed to increase trial readiness. This study aimed to describe the clinical phenotype including dexterity, coordination, strength, mobility, balance, disease severity, participation, and quality of life observed in adults with ARSACS homozygous for the c.8844delT mutation.
Methods
Cross-sectional study with comparisons between disease stages and with reference values. Outcome measures included Standardized Finger-to-Nose Test, Grip/pinch strength, LEMOCOT, Six-Minute Walk Test, 10-Meter Walk Test, Berg Balance Scale, Spastic Paraplegia Rating Scale, Scale for the Assessment and Rating of Ataxia, LIFE-H, and SF-12.
Results
Twenty-eight participants were recruited with a mean age of 38.1 years. The majority presented with lower limb coordination and fine dexterity scores below three standard deviations compare to reference values, scored under predicted values for mobility measures and were at increased risk of fall. Participants at an earlier disease stage performed better than the others, but individual variability was observed.
Conclusions
Results showed overall impaired motor performances and, even in a genetically homogeneous ARSACS population, an individual variability within disease stages. This study lays the foundation for a longitudinal study using quantified measurements.