03.01.2021 | Original Article | Ausgabe 3/2021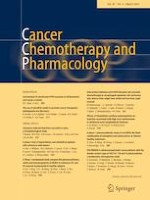 FSTL1 increases cisplatin sensitivity in epithelial ovarian cancer cells by inhibition of NF-κB pathway
Zeitschrift:
Autoren:

Ya-Kun Liu, Ya-Jing Jia, Shi-Hao Liu, Jing Ma
Wichtige Hinweise
Publisher's Note
Springer Nature remains neutral with regard to jurisdictional claims in published maps and institutional affiliations.
Abstract
Objective
To investigate the effects of FSTL1-mediated NF-κB signaling pathway on cisplatin (DDP) sensitivity of EOC cells.
Methods
FSTL1 expression was determined in epithelial ovarian cancer (EOC) tissues and corresponding adjacent tissues using immunohistochemistry. SKOV3 and SKOV3/DDP cells were transfected and grouped into Blank, Vector, and FSTL1 groups. The sensitivity and 50% inhibitory concentration (IC50) of cells treated with different concentrations of DDP were detected by MTT assay. SKOV3/DDP cells were treated with 20 μM DDP, followed by evaluation of cell proliferation, cell apoptosis and determination of NF-κB pathway-related proteins while SKOV3 cells without.
Results
FSTL1 expression in EOC tissues and cells was significantly down-regulated, especially decreased in DDP-resistant EOC cells SKOV3/DDP. In SKOV3 cells and SKOV3/DDP cells, the cell viability was reduced and the DDP sensitivity was improved with the decreased IC50 after over-expressing FSTL1. Compared with Blank group, FSTL1 group had declined number of SKOV3 cell colonies and increased cell apoptosis, with obvious up-regulations of FSTL1, Bax/Bcl-2 and cleaved caspase-3 expression and the down-regulations of p-IκBα, p-p65 and survivin expression. Combination of up-regulation of FSTL1 and DDP treatment can also effectively reduce cell colony forming, increase cell apoptosis, and inhibit NF-κB pathway activity of SKOV3/DDP cells. Moreover, this combination can also significantly suppress the growth of subcutaneous xenograft tumors in nude mice.
Conclusion
FSTL1 may inhibit NF-κB signaling pathway to suppress the growth and promote the apoptosis of epithelial ovarian cancer cells, and thereby enhancing its DDP sensitivity.