09.03.2019 | Review | Ausgabe 3-4/2019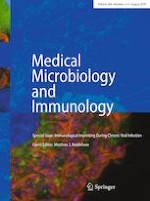 Fuel and brake of memory T cell inflation
Zeitschrift:
Autoren:

Suzanne P. M. Welten, Nicolas S. Baumann, Annette Oxenius
Wichtige Hinweise
Edited by: Matthias J. Reddehase.
This article is part of the Special Issue on Immunological Imprinting during Chronic Viral Infection.
Publisher's Note
Springer Nature remains neutral with regard to jurisdictional claims in published maps and institutional affiliations.
Abstract
Memory T cell inflation is a process in which a large number of effector memory T cells accumulates in peripheral tissues. This phenomenon is observed upon certain low level persistent virus infections, but it is most commonly described upon infection with the β-herpesvirus Cytomegalovirus. Due to the induction of this large pool of functional effector CD8 T cells in peripheral tissues, the interest in using CMV-based vaccine vectors for vaccination purposes is rising. However, the exact mechanisms of memory T cell inflation are not yet fully understood. It is clear that repetitive exposure to antigen is a key determinant for memory inflation, and therefore the viral inoculum dose and the subsequent number of viral reactivation events strongly impact on the magnitude of the inflationary T cell pool. In addition, the number of CMV-specific CD8 T cells that is able to sense these reactivation events affects the size of the inflationary T cell pool. In the following, we will discuss factors that either promote or limit T cell inflation from both the virus and host perspective. These factors mostly operate by influencing the amount of available antigen or by affecting the T cell pool that is able to respond to the antigen. Furthermore, we will discuss the recent use of CMV-based vaccines in pre-clinical experimental settings, where these vectors have shown promising results by inducing prolonged effector memory T cell responses to foreign-introduced epitopes and thereby provided protection from subsequent virus or tumour challenges.