01.12.2018 | Research article | Ausgabe 1/2018 Open Access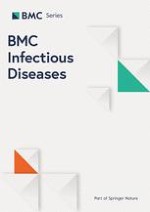 Full blood count values as a predictor of poor outcome of pneumonia among HIV-infected patients
Zeitschrift:
Autoren:

S. Camon, C. Quiros, N. Saubi, A. Moreno, M. A. Marcos, Y. Eto, S. Rofael, E. Monclus, J. Brown, T. D. McHugh, J. Mallolas, R. Perello
Wichtige Hinweise
Electronic supplementary material
Abstract
Background
To evaluate the predictive value of analytical markers of full blood count that can be assessed in the emergency department for HIV infected patients, with community-acquired pneumonia (CAP).
Methods
Prospective 3-year study including all HIV-infected patients that went to our emergency department with respiratory clinical infection, more than 24-h earlier they were diagnosed with CAP and required admission. We assessed the different values of the first blood count performed on the patient as follows; total white blood cells (WBC), neutrophils, lymphocytes (LYM), basophils, eosinophils (EOS), red blood cells (RBC), hemoglobin, hematocrit, mean corpuscular volume, mean corpuscular hemoglobin concentration, mean corpuscular hemoglobin, red blood cell distribution width (RDW), platelets (PLT), mean platelet volume, and platelet distribution width (PDW). The primary outcome measure was 30-day mortality and the secondary, admission to an intensive care unit (ICU). The predictive power of the variables was determined by statistical calculation.
Results
One hundred sixty HIV-infected patients with pneumonia were identified. The mean age was 42 (11) years, 99 (62%) were male, 79 (49%) had ART. The main route of HIV transmission was through parenteral administration of drugs. Streptococcus pneumonia was the most frequently identified etiologic agent of CAP The univariate analysis showed that the values of PLT (
p
 < 0.009), EOS (
p
 < 0.033), RDW (
p
 < 0.033) and PDW (
p
 < 0.09) were predictor of mortality, but after the logistic regression analysis, no variable was shown as an independent predictor of mortality. On the other hand, higher RDW (OR = 1.2, 95% CI 1.1-1.4,
p
 = 0.013) and a lower number of LYM (OR 2.2, 95% CI 1.1-2.2;
p
 = 0.035) were revealed as independent predictors of admission to ICU.
Conclusion
Red blood cell distribution and lymphocytes were the most useful predictors of disease severity identifying HIV infected patients with CAP who required ICU admission.