01.12.2017 | Research | Ausgabe 1/2017 Open Access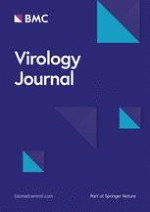 Full-length genome sequence analysis of enzootic nasal tumor virus isolated from goats in China
Zeitschrift:
Autoren:

Yapeng He, Qi Zhang, Jing Wang, Man Zhou, Mingzhe Fu, Xingang Xu
Background
Enzootic nasal adenocarcinoma (ENA) of sheep and goats and ovine pulmonary adenocarcinoma (OPA or jaagsiekte) are contagious diseases characterized by neoplastic transformation of secretory epithelial cells in the respiratory tract [
1
,
2
]. OPA is a tumour derived from type II pneumocytes and Clara cells in the lung, whereas ENA arises from secretory epithelial cells of the ethmoid turbinate [
3
]. The gross pathology and histology of ENA in sheep and goats appear to be identical [
1
,
4
,
5
]. Jaagsiekte sheep retrovirus (JSRV), an ovine betaretrovirus, is the causative agent of OPA [
2
]. Enzootic nasal adenocarcinoma (ENA) is an economically important contagious tumour of the nasal mucosa of sheep and goats and is associated with enzootic nasal tumour virus (ENTV) [
3
–
5
]. ENTV belongs to the genus
Betaretrovirus
in the family
Retroviridae
. ENTV display characteristics of both D- and B-type viruses. The ENTV genome consists of a single, positive stranded RNA of about 7.5 kb and has a structure analogous to that of cellular mRNA, with 5′ and 3′ untranslated regions (UTR), a 7-methylguanosine cap and a polyadenylated 3′ end. Like other retroviral genomes, ENTV genome has a basic canonical structure, 5′-U5-Gag-Pro-Pol-Env-U3-3′, with four open reading frames (Orf) and flanking untranslated regions and terminal repeats (LTR) on either end. The
gag
(group antigen) gene encodes the structural proteins that make up the capsid (CA) and matrix (MA) layer or shell, as well as the nucleocapsid (NC) protein, which interacts directly with the genomic RNA. The
pro
gene encodes the viral protease (PR) responsible for proteolytic processing of viral proteins. The
pol
gene encodes reverse transcriptase (RT) and integrase (IN), the replicative enzymes required for reverse transcription and integration of the genome. The
env
gene encodes both SU (surface) and TM (transmembrane) subunits of the envelope glycoprotein [
6
]. With the exception of Australia and New Zealand, ENA has been recorded worldwide wherever sheep and goats are farmed, with a prevalence of up to 10% in some areas [
4
,
6
]. Very little is known about the prevalence of this disease due to the lack of an infectious molecular clone and the inability to culture the virus, and only two full-length sequences are available for ENTV-2 (ENTV-2 European strain: accession number AY197548.1, and Chinese ENTV-2-SC strain: accession number HM104174.1) [
1
,
7
,
8
].
Goat enzootic nasal tumors appeared enzootically in China in recent years. Clinically, the affected goats showed copious serous nasal discharge, then snuffle and progressively developed dyspnea, ocular protrusion and skull deformations, eventually death from suffocation. The epidemiology, clinical and pathohistological pattern of goat intranasal adenoma and adenocarcinoma in Shaanxi province were similar to those of goat enzootic intranasal tumors that had in Spain, France and other provinces of China [
1
]. In order to understand the molecular evolution of ENTV-2, the full length genome sequence of four ENTV-2 derived from nasal fluid of ENA isolated from conventionally reared goats in China was determined and analyzed with other retroviruses. The results showed that the main sequence differences between these viruses reside in LTR, two small regions of Gag, Orf-x, and the transmembrane (TM) region of Env. Phylogenetic analysis revealed that these Shaanxi isolates were closely related to all the known ENTV-2 isolates, especially with ENTV-2-SC strain.
Methods
Results
Discussion
Conclusions
In this study, the complete sequences were determined from four isolates of Shaanxi province. The ENTV-2-Shaanxi genomes shared 97.0% sequence identity with ENTV-2-SC (accession number HM104174.1), and 89.6% sequence identity with the ENTV-2 sequence (accession number AY197548.1). ENTV-2 is closely related to the ENTV-1 and JSRV. The main sequence differences between these viruses reside in LTR, VR1 and VR2 of Gag, Orf-x, and the transmembrane (TM) region of Env. Phylogenetic analysis by nucleotide sequences showed that four ENTV-2 isolates of shaanxi province were closest related to three ENTV-2 isolates published in NCBI, especially with ENTV-2-SC strain. This finding indicates that ENA most likely was introduced to Shaanxi province by the movement of contaminated goats from other areas in China. This study adds to understand the circulation, variation and distribution of ENTV-2, and may prove beneficial in future control or eradication programmes.
Acknowledgements
We would like to thank Dr. Kangkang Guo (College of Veterinary Medicine, Northwest A&F University) for technical assistance. We thank Dr. Sanke Yu (College of Veterinary Medicine, Northwest A&F University) for the advice and help in English editing of the manuscript.
Funding
This work was supported by grants from the Major Industrial Innovation Chain Projects of Shaanxi Province (No. 2016KTZDNY02-06) and the innovation project for agro-technology of Shaanxi Province (No. 2016NY-092), China.
Availability of data and materials
All relevant information is provided in this current manuscript.
Ethics approval and consent to participate
The study was approved by the Ethics Committee of Northwest A&F University. All the animals were treated in strict accordance with the recommendations in the Guide for the Care and Use of Laboratory Animals of the Ministry of Science and Technology of the People's Republic of China.
Consent for publication
Not applicable.
Competing interests
The authors declare that they have no competing interests.
Open Access
This article is distributed under the terms of the Creative Commons Attribution 4.0 International License (
http://​creativecommons.​org/​licenses/​by/​4.​0/​
), which permits unrestricted use, distribution, and reproduction in any medium, provided you give appropriate credit to the original author(s) and the source, provide a link to the Creative Commons license, and indicate if changes were made. The Creative Commons Public Domain Dedication waiver (
http://​creativecommons.​org/​publicdomain/​zero/​1.​0/​
) applies to the data made available in this article, unless otherwise stated.