01.11.2014 | Original Article | Ausgabe 11/2014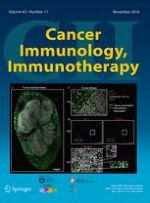 Functional autoantibodies against SSX-2 and NY-ESO-1 in multiple myeloma patients after allogeneic stem cell transplantation
Zeitschrift:
Autoren:

Tim Luetkens, Sebastian Kobold, Yanran Cao, Marina Ristic, Georgia Schilling, Sinje Tams, Britta Marlen Bartels, Julia Templin, Katrin Bartels, York Hildebrandt, Sara Yousef, Andreas Marx, Friedrich Haag, Carsten Bokemeyer, Nicolaus Kröger, Djordje Atanackovic
Wichtige Hinweise
Electronic supplementary material
The online version of this article (doi:
10.​1007/​s00262-014-1588-x
) contains supplementary material, which is available to authorized users.
Tim Luetkens and Sebastian Kobold have contributed equally to this work.
Abstract
Background
Multiple myeloma (MM) is the malignancy with the most frequent expression of the highly immunogenic cancer–testis antigens (CTA), and we have performed the first analysis of longitudinal expression, immunological properties, and fine specificity of CTA-specific antibody responses in MM.
Methods
Frequency and characteristics of antibody responses against cancer–testis antigens MAGE-A3, NY-ESO-1, PRAME, and SSX-2 were analyzed using peripheral blood (
N
= 1094) and bone marrow (
N
= 200) plasma samples from 194 MM patients.
Results
We found that antibody responses against CTA were surprisingly rare, only 2.6 and 3.1 % of patients evidenced NY-ESO-1- and SSX-2-specific antibodies, respectively. NY-ESO-1-specific responses were observed during disease progression, while anti-SSX-2 antibodies appeared after allogeneic stem cell transplantation and persisted during clinical remission. We found that NY-ESO-1- and SSX-2-specific antibodies were both capable of activating complement and increasing CTA uptake by antigen-presenting cells. SSX-2-specific antibodies were restricted to IgG3, NY-ESO-1 responses to IgG1 and IgG3. Remarkably, NY-ESO-1-positive sera recognized various non-contiguous regions, while SSX-2-specific responses were directed against a single 6mer epitope, SSX-285–90.
Conclusions
We conclude that primary autoantibodies against intracellular MM-specific tumor antigens SSX-2 and NY-ESO-1 are rare but functional. While their contribution to disease control still remains unclear, our data demonstrate their theoretic ability to affect cellular anti-tumor immunity by formation and uptake of mono- and polyvalent immune complexes.