28.08.2017 | Lipidomics | Ausgabe 3/2018 Open Access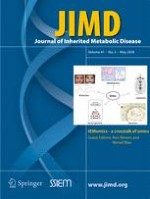 Functional characterisation of peroxisomal β-oxidation disorders in fibroblasts using lipidomics
Zeitschrift:
Autoren:

Katharina Herzog, Mia L. Pras-Raves, Sacha Ferdinandusse, Martin A. T. Vervaart, Angela C. M. Luyf, Antoine H. C. van Kampen, Ronald J. A. Wanders, Hans R. Waterham, Frédéric M. Vaz
Wichtige Hinweise
Responsible Editor: Ron Wevers
Electronic supplementary material
The online version of this article (doi:
10.​1007/​s10545-017-0076-9
) contains supplementary material, which is available to authorized users.
F. M. Vaz and H. R. Waterham are senior co-authors.
Introduction
In this study, we used ultra-high performance liquid chromatography coupled with high-resolution mass spectrometry (UPLC-HRMS) to gain more insight into the pathophysiology and the functional consequences of PEDs affecting peroxisomal β-oxidation on the lipidome of skin fibroblasts. We found characteristic changes in the phospholipid profiles of the different PEDs, which reflect their heterogeneity and highlight the different roles of the affected enzymes and transporter proteins in peroxisomal metabolism. Remarkably, we also found a decrease in selected ether phospholipid species, including plasmalogens, in all the PED cells. Our study revealed specific and discriminative phospholipid ratios that reflect the defects of the PED cells when compared to healthy control fibroblasts.
Materials and methods
Cultured skin fibroblasts
All cell lines were anonymised. We used primary skin fibroblast cell lines from seven healthy controls, seven patients with ACOX1 deficiency, six patients with DBP deficiency, seven ALD patients (i.e. ABCD1 deficiency), and one patient with a deficiency of ACBD5. Fibroblasts were cultured in 162-cm 2 flasks in Ham's F-10 Medium with L-glutamine, supplemented with 10% foetal calf serum (Invitrogen, Carlsbad, CA, USA), 25 mM Hepes, 100 U/mL penicillin, 100 μg/mL streptomycin, and 250 μg/mL amphotericin in a humidified atmosphere of 5% CO2 at 37 °C. All cells were cultured under the same condition using the same batch of medium and additives to prevent medium-induced changes in lipid composition. We harvested the cells by trypsinisation (0.5% trypsin-EDTA, Invitrogen) after they reached confluency, and washed once with phosphate-buffered saline and twice with 0.9% NaCl, followed by centrifugation at 4 °C (16,100 x g for 5 min) to obtain cell pellets. Cell pellets were stored at −80 °C until analysis.
Biochemical analyses, phospholipid extraction procedure, and UPLC-HRMS
Bioinformatics and statistics
The dataset was processed using an in-house developed metabolomics pipeline (Herzog et al
2016
). Total phospholipid levels as presented in this paper are defined as the summation of the abundance, relative to the corresponding internal standard, of all identified phospholipid species of the same class, by assuming identical response with respect to the internal standard. Data in figures are presented as mean ± SD, and a Students t-test or one-way ANOVA with post-hoc correction according to the method of Benjamini and Hochberg (q-values) was used for statistical comparison between the groups. Partial least squares regression discriminant analysis (PLS-DA) with the extraction of variable importance in projection (VIP) scores was performed using the R package 'ropls' (Thévenot et al
2015
).
Results
Discussion
The substantial number of annotated metabolites detected in one experiment and the changes in the lipid profiles in patients' fibroblasts we present in this paper demonstrate the potential of lipidomics for diagnostic approaches. Since peroxisomal disorders are known to affect plasma lipid composition, most biomarkers found in fibroblasts, or similar ones, are likely to be applicable to plasma and leucocytes from patients, such as phospholipids containing VLCFAs. Studying the lipidome in plasma and/or leucocytes using lipidomics therefore is an interesting subject for future studies.
In conclusion, we detected characteristic changes in the phospholipid profiles of cultured PED fibroblasts affecting peroxisomal β-oxidation, which reflects the heterogeneity of this group of peroxisomal disorders. Besides the accumulation of phospholipids with VLCFAs and reduced levels of species containing PUFAs, we found decreased levels of PC-ether phospholipids, in ACBD5-, ACOX1-, DBP-deficient fibroblasts. Using a specific set of phospholipid ratios, we refined the method to study the functional effects of PEDs on the phospholipid composition in the cell, which allowed us to discriminate the PEDs from control cells.
ACBD5, acyl-CoA binding domain containing protein 5; ACOX1, acyl-CoA oxidase 1; ALD, adrenoleukodystrophy; BMP, bis(monoacylglycero)phosphate; CL, cardiolipin; DBP, D-bifunctional protein; DHA, docosahexaenoic acid (C22:6ω-3); EPA, eicosapentaenoic acid (C20:5ω-3); ER, endoplasmic reticulum; LPC, lyso-phosphatidylcholine; LPE, lyso- phosphatidylethanolamine; mLCL, monolysocardiolipin; PA, phosphatidic acid; PBD, peroxisome biogenesis disorder; PC, phosphatidylcholine; PC(O-), PC ether phospholipid; PE, phosphatidylethanolamine; PE(O-), PE ether phospholipid; PED, single peroxisomal enzyme deficiency; PG, phosphatidylglycerol; PI, phosphatidylinositol; PLS-DA, partial least squares regression discriminant analysis; PS, phosphatidylserine; SLBPA, semilysobisphosphatidic acid; SM, sphingomyelin; UPLC-HRMS, ultra-high performance liquid chromatography coupled with high-resolution mass spectrometry; VIP, variable importance in projection; VLCFA, very long-chain fatty acid; ZSD, Zellweger Spectrum Disorder.
Details of funding
This work was supported by the FP-7-PEOPLE-2012-Marie Curie-ITN316723 PERFUME (K.H. and H.R.W.).
Compliance with ethical standards
Conflict of interest
K. Herzog, ML. Pras-Raves, S. Ferdinandusse, MAT. Vervaart, ACM. Luyf, AHC. van Kampen, RJA. Wanders, HR. Waterham, and FM. Vaz declare that they have no conflict of interest.
Informed consent
This article does not contain any studies with human or animal subjects performed by any of the authors.
Open Access
This article is distributed under the terms of the Creative Commons Attribution 4.0 International License (http://creativecommons.org/licenses/by/4.0/), which permits unrestricted use, distribution, and reproduction in any medium, provided you give appropriate credit to the original author(s) and the source, provide a link to the Creative Commons license, and indicate if changes were made.