01.12.2018 | Case report | Ausgabe 1/2018 Open Access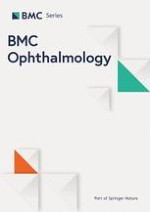 Fundus changes in type III membranoproliferative glomerulonephritis: a case report
Zeitschrift:
Autoren:

Masato Takei, Akira Obana, Takenori Inomata, Takao Tanaka, Tina Shiang, Yuan Bae, Tamiko Takemura, Akira Murakami
Abstract
Background
Membranoproliferative glomerulonephritis (MPGN) is characterized by mesangial cell proliferation and is classified into types I, II and III based on structural changes in the glomerular capillary walls. The drusen-like deposits of MPGN type II have been studied, but the fundus changes in MPGN type III have yet to be clarified. We report a case of MPGN type III with multiple deposits in the retinal pigment epithelium (RPE).
Case presentation
A 40-year-old Japanese woman with MPGN type III developed numerous yellow-white patches in the central macula of both eyes. Optical coherence tomography (OCT) showed deposits between the RPE and Bruch's membrane. Fluorescein angiography showed choroidal neovascularization (CNV) and OCT confirmed it as type 1 (sub RPE) CNV with fibrin tissue and subretinal fluid in the right eye. After 12 months, the CNV and subretinal fluid resolved spontaneously but the RPE deposits remained in both eyes. Her final visual acuity was 20/20 in the right eye and 20/16 in the left eye.
Conclusion
We report a case of MPGN type III with multiple deposits in the RPE and CNV, suggesting that various fundus changes occur in MPGN type III and careful fundus follow-up is necessary to prevent vision loss.