27.09.2016 | Original Article | Ausgabe 6/2016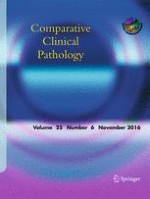 Fungal flora in the mouth of venomous and non-venomous snakes
Zeitschrift:
Autoren:

Rouhullah Dehghani, Alireza Sharif, Mohammad Ali Assadi, Hamed Haddad Kashani, Mohammad Reza Sharif
Abstract
Mortality as a direct result of venomous snake bites is estimated to be in the thousands worldwide per year. However, while venom may be the primary mortality vector, snake oral cavities can also contain significant pathogens capable of causing infection in bite victims. This study was conducted to identify potentially pathogenic fungal flora in the oral cavities of venomous and non-venomous snakes. Sterile swabs were used to retrieve samples from the oral cavities of different snakes followed by medium-specific culture. Slide culture technology was also used in the identification of fungal flora.
Rhizopus
and
Mucor
represented the most common fungal flora each making up 29 % of the total.
Alternaria, Cladosporium, Aspergillus
and
Candida
represented a significantly smaller portion of fungal pathogen load at around 3 % each. Fungi, Yeast (19.4 %) and Penicillium (9.7 %), were also identified in the retrieved samples. Our results indicate that both venomous and non-venomous snakes carry a significant fungal pathogenic load in their oral cavities. Therefore, fungal infection should be considered, in addition to toxicity, especially in snake bite victims with immune deficiency.