26.10.2016 | Hepatitis B (JK Lim, Section Editor) | Ausgabe 4/2016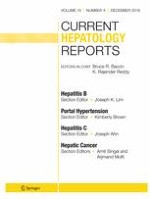 Future Therapy for Hepatitis B Virus and Hepatitis D Virus
Zeitschrift:
Autoren:

Cihan Yurdaydin, Ramazan Idilman
Wichtige Hinweise
This article is part of the Topical Collection on
Hepatitis B
Abstract
Chronic delta hepatitis (CDH) represents the least encountered but the most severe form of chronic viral hepatitis. Whereas in other forms of chronic viral hepatitis breakthrough advances has occurred in the last two decades, this did not happen in CDH. The only effective treatment in CDH consists of the use of pegylated interferons. Interferon therapy has to be given at high doses, and the optimal duration is unknown although there is data to suggest that treatment has to be individualized and prolonged treatment duration beyond 1 year is necessary. Effective treatment of chronic hepatitis B (CHB) could be of value in CDH as long as it significantly decreases hepatitis B surface antigen (HBsAg) levels. However, nucleos(t)ide analogs currently in use for the treatment of CHB do not affect HBsAg levels and are not beneficial in CDH. New treatment approaches for CHB aiming for functional or complete cure in CHB are attractive but most are in the preclinical stage of drug development and are not expected to be in use in the very near future. Hence, treatment development targeting different steps of the hepatitis delta virus is rationale. These include hepatocyte entry inhibitors, nucleic acid polymers, and prenylation inhibitors. The former two approaches may also be considered for CHB mono-infection. Studies on these three approaches have reached phase 2 studies in humans. The use of the hepatocyte entry inhibitor myrcludex B, several nucleic acid polymers, and the prenylation inhibitor lonafarnib in clinical trials have displayed some promising results and further data need to be generated but there is now, after decades of silence in terms of translational activity, for the first time a hope for effective new treatments in CDH.