26.01.2017 | Pictorial Review | Ausgabe 2/2017 Open Access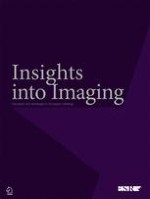 Gallbladder adenomyomatosis: imaging findings, tricks and pitfalls
Zeitschrift:
Autoren:

Matteo Bonatti, Norberto Vezzali, Fabio Lombardo, Federica Ferro, Giulia Zamboni, Martina Tauber, Giampietro Bonatti
Wichtige Hinweise
Based on the EPOS "Gallbladder adenomyomatosis: are we sure to know it?" DOI 10.1594/ecr2014/C-0198
Abstract
Gallbladder adenomyomatosis (GA) is a benign alteration of the gallbladder wall that can be found in up to 9% of patients. GA is characterized by a gallbladder wall thickening containing small bile-filled cystic spaces (i.e., the Rokitansky–Aschoff sinuses, RAS). The bile contained in RAS may undergo a progressive concentration process leading to crystal precipitation and calcification development. A correct characterization of GA is fundamental in order to avoid unnecessary cholecystectomies. Ultrasound (US) is the imaging modality of choice for diagnosing GA; the use of high-frequency probes and a precise focal depth adjustment enable correct identification and characterization of GA in the majority of cases. Contrast-enhanced ultrasound (CEUS) can be performed if RAS cannot be clearly identified at baseline US: RAS appear avascular at CEUS, independently from their content. Magnetic resonance imaging (MRI) should be reserved for cases that are unclear on US and CEUS. At MRI, RAS can be identified with extremely high sensitivity, but their signal intensity varies widely according to their content. Positron emission tomography (PET) may be helpful for excluding malignancy in selected cases. Computed tomography (CT) and cholangiography are not routinely indicated in the suspicion of GA.
Teaching points
1. Gallbladder adenomyomatosis is a common benign lesion (1–9% of the patients).
2. Identification of Rokitansky–Aschoff sinuses is crucial for diagnosing gallbladder adenomyomatosis.
3. Sonography is the imaging modality of choice for diagnosing gallbladder adenomyomatosis.
4. Intravenous contrast material administration increases ultrasound accuracy in diagnosing gallbladder adenomyomatosis.
5. Magnetic resonance is a problem-solving technique for unclear cases.