01.12.2018 | Case report | Ausgabe 1/2018 Open Access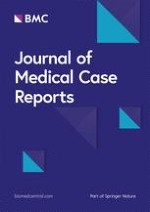 Gallbladder ascariasis in Kosovo – focus on ultrasound and conservative therapy: a case series
Zeitschrift:
Autoren:

Vlora Ismaili-Jaha, Halim Toro, Lidvana Spahiu, Mehmedali Azemi, Teuta Hoxha-Kamberi, Muharrem Avdiu, Shqipe Spahiu-Konjusha, Luan Jaha
Abstract
Background
Ascaris lumbricoides
is one of the most common intestinal infections in developing countries, including Kosovo. In contrast to migration to the bile duct, migration of the worm to the gallbladder, due to the narrow and tortuous nature of the cystic duct, is rare. When it does occur, it incites acalculous cholecystitis.
Case presentations
This case series describes a 16-month-old Albanian girl, a 22-month-old Albanian girl, a 4-year-old Albanian girl, and a 10-year-old Albanian boy. Here we report our experience with gallbladder ascariasis including clinical manifestations, diagnostic procedures, and treatment. Fever, diarrhea and vomiting, dehydration, pale appearance, and weakness were the manifestations of the primary disease. In all patients, a physical examination revealed reduced turgor and elasticity of the skin. Abdomen was at the level of the chest, soft, with minimal palpatory pain. The liver and spleen were not palpable. A laboratory examination was not specific except for eosinophilia. There were no pathogenic bacteria in coproculture but
Ascaris
was found in all patients. At an ultrasound examination in all cases we found single, long, linear echogenic structure without acoustic shadowing containing a central, longitudinal anechoic tube with characteristic movement within the gallbladder. Edema of the gallbladder wall was suggestive of associated inflammation. There were no other findings on adjacent structures and organs. All patients received mebendazole 100 mg twice a day for 3 days. They also received symptomatic therapy for gastroenteritis. Because of elevated markers of inflammation all patients were treated with antibiotics, assuming acute cholecystitis, although ultrasound was able to confirm cholecystitis in only two of our four patients. Since the length of stay was dependent on the primary pathology it was 7 to 10 days. At control ultrasounds on 14th day, third and sixth month, all patients were free of ascariasis.
Conclusions
Gallbladder ascariasis should be considered in all patients presenting with abdominal pain, distension, colic, nausea, anorexia, and intermittent diarrhea associated with jaundice, nausea, vomiting, fever, and severe radiating pain. Eosinophilia, ova, and parasites on stool examination as well as an anechogenic tube with characteristic movement within the bile duct found on abdominal ultrasound are conclusive for diagnosis. Mebendazole is an effective drug for the treatment. Surgical treatment is rarely needed.