01.12.2012 | Research | Ausgabe 1/2012 Open Access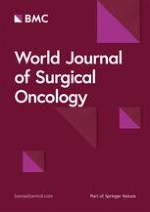 Gastric cancer at a university teaching hospital in northwestern Tanzania: a retrospective review of 232 cases
Zeitschrift:
Autoren:

Joseph B Mabula, Mabula D Mchembe, Mheta Koy, Phillipo L Chalya, Fabian Massaga, Peter F Rambau, Nestory Masalu, Hyasinta Jaka
Wichtige Hinweise
Mheta Koy, Fabian Massaga, Nestory Masalu contributed equally to this work.
Competing interests
The authors declare that they have no competing interests.
Authors' contributions
JBM conceived the study and participated in the literature search, and writing and editing the manuscript. MDM, MK, PLC, FM, PFR and NM participated in study design, data analysis, and manuscript writing and editing. HJ was involved in study design, data analysis, coordination of manuscript writing and editing, and submission of the article. In addition, MK and HJ did the endoscopic examination, while PFR performed histological examinations JBM and PLC provided surgical treatment to patients and NM provided oncological care to patients. All the authors read and approved the final manuscript.
Abstract
Background
Despite marked decreases in its incidence, particularly in developed countries, gastric cancer is still the second most common tumor worldwide. There is a paucity of information regarding gastric cancer in northwestern Tanzania. This study was undertaken to describe our experience, in our local setting, on the management of gastric cancer, outlining the clinicopathological and treatment outcome of these patients and suggesting ways to improve the treatment outcome.
Methods
This was a retrospective study of histologically confirmed cases of gastric cancer seen at Bugando Medical Centre between January 2007 and December 2011. Data were retrieved from patients' files and analyzed using SPSS computer software version 17.0.
Results
A total of 232 gastric cancer patients were enrolled in the study, representing 4.5% of all malignancies. The male to female ratio was 2.9:1. The median age of patients was 52 years. The majority of the patients (92.1%) presented late with advanced gastric cancer (Stages III and IV). Lymph node and distant metastasis at the time of diagnosis was recorded in 31.9% and 29.3% of cases, respectively. The antrum was the most frequent anatomical site (56.5%) involved and gastric adenocarcinoma (95.1%) was the most common histopathological type. Out of 232 patients, 223 (96.1%) patients underwent surgical procedures for gastric cancer of which gastro-jejunostomy was the most frequent performed surgical procedure, accounting for 53.8% of cases. The use of chemotherapy and radiotherapy was documented in 56 (24.1%) and 12 (5.1%) patients, respectively. Postoperative complication and mortality rates were 37.1% and 18.1%, respectively. According to multivariate logistic regression analysis, preoperative co-morbidity, histological grade and stage of the tumor, presence of metastases at the time of diagnosis was the main predictors of death (
P
<0.001). At the end of five years, only 76 (32.8%) patients were available for follow-up and the overall five-year survival rate was 6.9%. Evidence of cancer recurrence was reported in 45 (19.4%) patients. Positive resection margins, stage of the tumor and presence of metastasis at the time of diagnosis were the main predictors of local recurrence (
P
<0.001).
Conclusions
Gastric cancer in this region shows a trend towards relative young age at diagnosis and the majority of patients present late with an advanced stage. Lack of awareness of the disease, poor accessibility to health care facilities and lack of screening programs in this region may contribute to advanced disease at the time of diagnosis. There is a need for early detection, adequate treatment and proper follow-up to improve treatment outcome.