04.03.2019 | Short Communication | Ausgabe 5/2019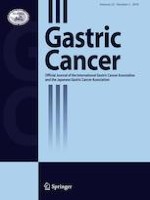 Gastric cancer mortality rates among US and foreign-born persons: United States 2005–2014
Zeitschrift:
Autoren:

Benjamin D. Hallowell, Meheret Endeshaw, Virginia Senkomago, Hilda Razzaghi, Matthew T. McKenna, Mona Saraiya
Wichtige Hinweise
The findings and conclusions in this report are those of the authors and do not necessarily represent the official position of the Centers for Disease Control and Prevention.
Publisher's Note
Springer Nature remains neutral with regard to jurisdictional claims in published maps and institutional affiliations.
Abstract
Background
Historically, foreign-born individuals in the US have had an elevated risk of dying from gastric cancer when compared to US-born individuals. This is primarily due to factors that occur prior to their immigration to the US, including diet and underlying risk of
H. pylori
infection.
Methods
National mortality data from 2005 to 2014 were obtained from the CDC's National Center for Health Statistics. Annual population estimates were obtained from the US Census Bureau's American Community Survey for foreign-born and US-born persons. Age-adjusted gastric cancer mortality rates and rate ratios (RR) were calculated stratified by birth place, age, race/ethnicity, and geographic location.
Results
From 2005 to 2014, 111,718 deaths from malignant gastric cancer occurred in the US, of which 24,583 (22%) occurred among foreign-born individuals. Overall, foreign-born individuals had higher mortality rates compared with US-born individuals (RR 1.82; 95% CI 1.80, 1.85) and this difference remained after stratifying by sex, age, and geographic location. However, this finding was primarily driven by the low rate of gastric cancer mortality among US-born whites, with similar mortality rates observed among all other foreign-born and US-born groups. Gastric cancer mortality rates significantly decreased during the study period overall (AAPC − 2.50; 95% CI − 3.21, − 1.79) with significant declines observed among US-born (AAPC − 2.81; 95% CI − 3.55, − 2.07) and the foreign-born (AAPC − 2.53; 95% CI − 3.20, − 1.86) population.
Conclusions
Efforts directed at reducing the prevalence of gastric cancer risk factors could help reduce the elevated burden observed among foreign-born individuals and US-born minority groups.