24.09.2019 | Original Article | Ausgabe 10/2019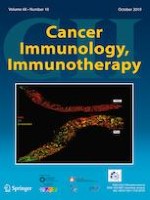 Gastrin vaccine improves response to immune checkpoint antibody in murine pancreatic cancer by altering the tumor microenvironment
Zeitschrift:
Autoren:

Nicholas Osborne, Rebecca Sundseth, Julian Burks, Hong Cao, Xunxian Liu, Alexander H. Kroemer, Lynda Sutton, Allen Cato, Jill P. Smith
Wichtige Hinweise
Electronic supplementary material
Publisher's Note
Springer Nature remains neutral with regard to jurisdictional claims in published maps and institutional affiliations.
Abstract
Pancreatic cancer has been termed a 'recalcitrant cancer' due to its relative resistance to chemotherapy and immunotherapy. This resistance is thought to be due in part to the dense fibrotic tumor microenvironment and lack of tumor infiltrating CD8 + T cells. The gastrointestinal peptide, gastrin, has been shown to stimulate growth of pancreatic cancer by both a paracrine and autocrine mechanism. Interruption of gastrin at the CCK receptor may reduce tumor-associated fibrosis and alter tumor immune cells. Polyclonal Ab Stimulator (PAS) is a vaccine that targets gastrin and has been shown to prolong survival of patients with pancreatic cancer. Here, we report that PAS vaccination monotherapy elicits both a humoral and cellular immune response when used in immune competent mice-bearing pancreatic tumors and that PAS monotherapy produced a marked T-cell activation and influx of CD8 + lymphocytes into pancreatic tumors. Isolated peripheral lymphocytes elicited cytokine release upon re-stimulation with gastrin in vitro demonstrating specificity of immune activation for the target peptide. Combination therapy with PAS and PD-1 Ab activated CD4 −/CD8 − TEMRA cells important in T-cell-mediated tumor death and memory. Tumors of mice treated with PAS (250 μg) or PAS (100 and 250 μg) in combination with a PD-1 Ab were significantly smaller compared to tumors from PBS or PD-1 Ab-treated mice. When PAS was given in combination with PD-1 Ab, tumors had less fibrosis, fewer inhibitory Treg lymphocytes, and fewer tumor-associated macrophages. These findings reveal a novel approach to improve treatment strategies for pancreatic cancer.