30.04.2018 | Original Article | Ausgabe 9/2018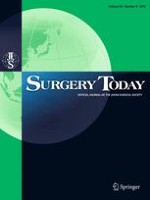 Gastrointestinal complications after lung transplantation in Japanese patients
Zeitschrift:
Autoren:

Hidenao Kayawake, Toyofumi F. Chen-Yoshikawa, Hideki Motoyama, Masatsugu Hamaji, Daisuke Nakajima, Akihiro Aoyama, Hiroshi Date
Abstract
Purpose
Gastrointestinal complications after lung transplantation (LTx) are an important postoperative morbidity associated with malnutrition and the malabsorption of drugs. We reviewed our experience of managing gastrointestinal complications after LTx.
Methods
Between June, 2008 and April, 2017, 160 lung transplants were performed at our institution, as living-donor lobar lung transplants in 77 patients, and as deceased-donor lung transplants in 83. We reviewed, retrospectively, the incidence, type and management of gastrointestinal complications.
Results
Among the 160 LTx recipients, 58 (36.3%) suffered a collective 70 gastrointestinal complications, the most frequent being gastroparesis, followed by gastroesophageal reflux disease. Two complications were managed surgically, by Nissen fundoplication for gastroesophageal reflux disease in one recipient and Hartmann's operation for sigmoid colon perforation in one. The other 68 complications were managed medically. Two patients died of complications: one, of aspiration pneumonia caused by gastroparesis; and one, of panperitonitis caused by a gastric ulcer. There were no significant differences in overall survival or chronic lung allograft dysfunction-free survival between the patients with and those without gastrointestinal complications.
Conclusions
Gastrointestinal complications are not uncommon in LTx recipients and may be serious; therefore, early detection and appropriate treatment are imperative. Surgical management is required for some complications, but most can be managed medically.