11.09.2020 | Original Article | Ausgabe 2/2021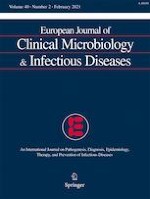 Gastrointestinal symptoms and the acquisition of enteric pathogens in Hajj pilgrims: a 3-year prospective cohort study
Autoren:

Van-Thuan Hoang, Thi-Loi Dao, Tran Duc Anh Ly, Doudou Sow, Khadidja Belhouchat, Kamel Larbi Chaht, Laetitia Ninove, Tassadit Drali, Saber Yezli, Badriah Alotaibi, Didier Raoult, Philippe Parola, Vincent Pommier de Santi, Philippe Gautret
Wichtige Hinweise
Publisher's note
Springer Nature remains neutral with regard to jurisdictional claims in published maps and institutional affiliations.
Abstract
The acquisition of enteric pathogens and risk factors for Hajj-associated diarrhea in Hajj pilgrims is poorly documented. Pilgrims from Marseille participating in the Hajj in 2016–2018 underwent successive systematic rectal swabbing before and after their travel. Carriage of the main enteric pathogens was assessed by real-time PCR. Baseline demographics, adherence to individual preventive measures, gastrointestinal symptoms, and treatments were recorded. A total of 376 pilgrims were included. The median age was 62.0 years. During the Hajj, 18.6% presented at least one gastrointestinal symptom, 13.8% had diarrhea, and 36.4% had acquired at least one enteric pathogen. Enteropathogenic
Escherichia coli
(EPEC) and Enteroaggregative
E. coli
(EAEC) were the pathogens most frequently acquired by pilgrims (17.6% and 14.4%, respectively). Being female was associated with increased frequency of gastrointestinal symptoms during the pilgrimage (aOR = 2.38,
p
 = 0.004). Enterohemorrhagic
Escherichia coli
(EHEC) acquisition was associated with a four-fold higher risk of reporting at least one gastrointestinal symptom and diarrhea (aOR = 3.68 and
p
 = 0.01 and aOR = 3.96 and
p
 = 0.01, respectively). Pilgrims who suffered from diarrhea were more likely to wash their hands more often (aOR = 2.07,
p
 = 0.03) and to be either overweight (aOR = 2.71,
p
 = 0.03) or obese (aOR = 2.51,
p
 = 0.05). Enteric bacteria such as
E. coli
that are frequently associated with traveler's diarrhea due to the consumption of contaminated food and drink were frequently found in pilgrims. Respecting strict measures regarding food and water quality during the Hajj and adherence to preventive measures such as good personal hygiene and environmental management will help reduce the burden of gastrointestinal infections at the event.