01.12.2015 | Research article | Ausgabe 1/2015 Open Access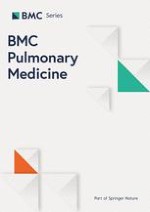 GATA2 deficiency in children and adults with severe pulmonary alveolar proteinosis and hematologic disorders
Zeitschrift:
Autoren:

Matthias Griese, Ralf Zarbock, Ulrich Costabel, Jenna Hildebrandt, Dirk Theegarten, Michael Albert, Antonia Thiel, Andrea Schams, Joanna Lange, Katazyrna Krenke, Traudl Wesselak, Carola Schön, Matthias Kappler, Helmut Blum, Stefan Krebs, Andreas Jung, Carolin Kröner, Christoph Klein, Ilaria Campo, Maurizio Luisetti, Francesco Bonella
Wichtige Hinweise
Maurizio Luisetti is deceased
Competing interests
The authors declare that they have no competing interests.
Authors' contributions
MG designed the study, collected the cases, analysed the data and wrote the draft of the manuscript. He is the guarantor of the entire manuscript. UC, AMH, JL, KK, BF, ML, CS, CK and MG contributed and evaluated patients and performed chart review, ZR, AS, BH, SK, CKr, and JA performed laboratory analyses, CU, CKr and BF critically revised the manuscript, DT provided tissue samples and performed histopathological analyses, AS, TW, UC and FB contributed to the long term collection of subjects, patient recruitment and evaluation. All contributors read and agreed to the final version of the manuscript.
Author's information
This paper is devoted to Prof. Maurizio Luisetti's outstanding contribution to the field of human alveolar proteinosis.
Abstract
Background
The majority of cases with severe pulmonary alveolar proteinosis (PAP) are caused by auto-antibodies against GM-CSF. A multitude of genetic and exogenous causes are responsible for few other cases. Goal of this study was to determine the prevalence of GATA2 deficiency in children and adults with PAP and hematologic disorders.
Methods
Of 21 patients with GM-CSF-autoantibody negative PAP, 13 had no other organ involvement and 8 had some form of hematologic disorder. The latter were sequenced for GATA2.
Results
Age at start of PAP ranged from 0.3 to 64 years, 4 patients were children. In half of the subjects GATA2-sequence variations were found, two of which were considered disease causing. Those two patients had the typical phenotype of GATA2 deficiency, one of whom additionally showed a previously undescribed feature – a cholesterol pneumonia. Hematologic disorders included chronic myeloic leukemia, juvenile myelo-monocytic leukemia, lymphoblastic leukemia, sideroblastic anemia and two cases of myelodysplastic syndrome (MDS). A 4 year old child with MDS and DiGeorge Syndrome Type 2 was rescued with repetitive whole lung lavages and her PAP was cured with heterologous stem cell transplant.
Conclusions
In children and adults with severe GM-CSF negative PAP a close cooperation between pneumologists and hemato-oncologists is needed to diagnose the underlying diseases, some of which are caused by mutations of transcription factor GATA2. Treatment with whole lung lavages as well as stem cell transplant may be successful.