27.02.2019 | Original Article | Ausgabe 5/2019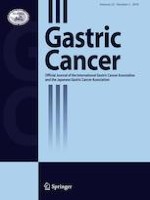 GC1118, a novel anti-EGFR antibody, has potent KRAS mutation-independent antitumor activity compared with cetuximab in gastric cancer
Zeitschrift:
Autoren:

Ji Eun Park, Mei Hua Jin, Minkyu Hur, Ah-Rong Nam, Ju-Hee Bang, Jonghwa Won, Do-Youn Oh, Yung-Jue Bang
Wichtige Hinweise
Ji Eun Park and Mei Hua Jin contributed equally to this work.
Publisher's Note
Springer Nature remains neutral with regard to jurisdictional claims in published maps and institutional affiliations.
Abstract
Background
EGFR overexpression in gastric cancer (GC) has been reported in about 30% of patients. However, the anti-EGFR antibodies cetuximab and panitumumab have failed to improve overall survival of GC patients in combination with cytotoxic chemotherapy compared with chemotherapy alone. GC1118, a novel anti-EGFR antibody with a distinct binding epitope compared with cetuximab or panitumumab, has not been tested in GC.
Methods
GC cell lines, SNU-1, SNU-5, SNU-16, SNU-216, SNU-484, SNU-601, SNU-620, SNU-638, SNU-668, SNU-719, AGS, MKN-45, NCI-N87, and KATO-III, were employed to test the effect of cetuximab or GC1118 alone, and combined with the cytotoxic agent cisplatin or 5-fluorouracil (5-FU). Cells were also treat with or without high-affinity ligands EGF 20 ng/ml or HB-EGF 100 ng/ml.
Results
GC1118 exhibited a more potent growth inhibition effect in the majority of cell lines than cetuximab in MTT assay, regardless of the
KRAS
mutation status of cell lines. Co-treatment of GC1118 and cisplatin or 5-FU inhibited colony formation and migration to a greater extent, even following EGFR ligand stimulation. Ligand-induced p-AKT and p-ERK upregulation were more potently inhibited by combination treatment with GC1118 and chemotherapeutic agents compared with cetuximab plus chemotherapeutic agents. GC1118 also showed more potent anti-tumor effects compared with cetuximab in a mouse xenograft model.
Conclusion
Taken together, GC1118 alone or in combination with cytotoxic chemotherapeutic agents exerted more potent anti-tumor effects than cetuximab in GC cells, regardless of
KRAS
status. These findings support the further clinical development of GC1118 for the treatment of GC.