28.11.2018 | Original Research Article | Ausgabe 6/2018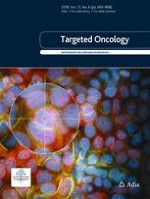 Gemcitabine Combined with the mTOR Inhibitor Temsirolimus in Patients with Locally Advanced or Metastatic Pancreatic Cancer. A Hellenic Cooperative Oncology Group Phase I/II Study
Zeitschrift:
Autoren:

Vasilios Karavasilis, Epaminontas Samantas, Georgia-Angeliki Koliou, Anna Kalogera-Fountzila, George Pentheroudakis, Ioannis Varthalitis, Helena Linardou, Grigorios Rallis, Maria Skondra, Georgios Papadopoulos, George Papatsibas, Joseph Sgouros, Athina Goudopoulou, Konstantine T. Kalogeras, Christos Dervenis, Dimitrios Pectasides, George Fountzilas
Wichtige Hinweise
Electronic supplementary material
Abstract
Background
The prognosis of patients with advanced pancreatic cancer is dismal, and there is a need for novel and effective treatments.
Objectives
Tο determine the maximum tolerated dose (MTD) and dose-limiting toxicities (DLTs) of a novel gemcitabine (G) and temsirolimus (T) combination (phase I) and estimate the 6-month progression-free survival (PFS) in patients treated with the T + G combination (phase II).
Patients and Methods
Eligible patients with histologically confirmed inoperable or metastatic pancreatic carcinoma (MPC) were entered into the trial. G was given bi-weekly and T weekly in a 4-week cycle. The first dose level was set at G 800 mg/m2 and T 10 mg. G was escalated in increments of 200 mg/m2 and T in increments of 5 mg until DLT was reached, and the recommended dose was used for the phase II part.
Results
Thirty patients were enrolled in the phase I component at the pre-planned six dose levels; one bilirubin DLT of grade III occurred at the first dose level. The MTD was established as the approved doses of both drugs. Fifty-five patients were entered into the phase II component. Median relative dose intensities administered in the first cycle were 0.75 for T and 0.99 for G. Grade 3-4 hematological toxicities were recorded in 87.3% of patients. The most common non-hematological adverse events were metabolic disorders (81.8%) followed by gastrointestinal disorders (63.6%). Median PFS was 2.69 months (95% CI 1.74-4.95) and median OS was 4.95 months (95% CI 3.54-6.85), while the 6-month PFS rate was 30.9%.
Conclusions
Combination of G and T is feasible in patients with locally advanced or MPC with manageable side effects, but lacks clinical efficacy.
The study was registered in the Australian New Zealand Clinical Trials Registry (ACTRN12611000643976).