01.12.2010 | Commentary | Ausgabe 1/2010 Open Access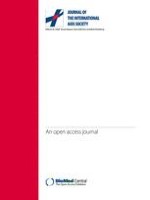 Gender and sexuality: emerging perspectives from the heterosexual epidemic in South Africa and implications for HIV risk and prevention
Zeitschrift:
Autoren:

Rachel Jewkes, Robert Morrell
Wichtige Hinweise
Competing interests
The authors declare that they have no competing interests.
Authors' contributions
This paper was written by both authors.
Introduction
Intersections of HIV, gender power inequity in relationships and violence: evidence from epidemiology
Key here are differences in the way in which men and women position themselves and act as social beings, i.e., differences in socially defined and constructed ways of being a man or woman, and the power and possibilities so entailed. For it is gender, not sex, that is more influential in determining behaviour. In a given relationship, for example, a man may expect to lead and control sexual relations and his woman partner to comply, and he may feel entitled to have sex with other women, but expect her to remain faithful. Gender differences take many different forms in different settings, but an area of commonality lies in diffentials in power. There is strong evidence that gender power inequity in relationships, which is a cause of intimate partner violence, places women at enhanced risk of HIV infection.
These two epidemics have provided an important impetus for research into the nexus of gender and HIV, and the country provides an important opportunity to understand these problems and the implications of them for responses to HIV.
Theoretical perspectives on men and gender
Feminist studies of sex and gender have historically foregrounded the oppression of women. Debates about the causes of, particularly, sexual oppression have frequently invoked a nature/nurture binary to explain global patterns of men's dominance over women. The former approach, which focuses on the genetic or physical to explain gender inequalities, has the major disadvantages of failing to explain diversity among men and among women and of lacking a model of how to make things better. Models that focus on how gender is a learned behaviour make more allowance for diversity and provide conceptual clarity about the forms that inequality take and how inequalities occur. Such analysis also can suggest gender equity interventions.
The focus on the social construction of gender has in the past quarter of a century generated a sophisticated literature on the gender identities of men and women, masculinities and femininities. This has permitted the conceptual inclusion of men within the ambit of gender studies, an initiative strongly associated with the theoretical work of Raewyn Connell [
20
,
21
].
Connell [
20
,
21
] describes the existence of multiple configurations of masculinity that are hierarchically organized and structured along lines of gendered domination (of men over women, of powerful men over less powerful men, of adult men over younger men). She identifies one masculine position that is dominant and refers to this as "hegemonic masculinity". It is this position that is generally associated with the subordination and oppression of women.
The concept of hegemony, drawn from Antonio Gramsci's work, refers to the exercise of power by creating consent through the establishment of accepted ideas or values. The concept is generally used descriptively to identify that form of masculinity that legitimates the subordination of women. It is in this sense that the framework enables an analysis of gender power while also allowing for the existence of divergent forms of male expression that may, for example, challenge the unquestioned right of men to this power.
There have been several interpretations of hegemonic masculinity by Connell herself [
22
] and others. Some focus on the fluidity and contested nature of the concept, while others stress the organizing, structured and structuring nature of hegemony. In this latter sense, hegemonic masculinity represents the dominant cultural model of idealized manhood. It is a frame used by individual men to judge their "success" as men. In a highly gender-inequitable country like South Africa, hegemonic masculinity mobilizes and legitimates the subordination and control of women by men. Conceived in this way, hegemonic masculinity is a necessary and integral element of patriarchy, the social organization that allocates, distributes and secures the power of men over women.
Hegemonic masculinity is characterized by a set of practices that both expresses men's power within the social system and serves to bolster this power. In essence, the practices flow from the hegemonic ideal. Implicit in the idea of "hegemony" is recognition that social ascendancy of this ideal of masculinity is not achieved through brute force, although violence may be used by men to bolster this ideal, but through a complex web of processes that extend into the organization of private life and cultural arrangements [
21
]. Thus, tenets of culture and religion and, for example, the operation of the legal system, may work to preserve the ascendancy of a particular cultural ideal of manhood.
Connell [
21
] argues that there is no equivalent notion of "hegemonic femininity" because there is more diversity in feminine ideals, although women are globally subordinated to men. She describes a form, or forms, of "emphasized femininity" that is characterized by compliance with women's subordination and an orientation towards accommodating the interests and desires of men. In other words, women "agree" with the unequal structuring of relations, do not challenge these relations, and ultimately collude in the unequal distribution of gender power with men. Other forms of femininity are shaped around strategies of resistance, and some combine compliance, resistance and cooperation [
21
].
Just as hegemonic masculinity is given power as a "cultural norm", forms of femininity that either in whole or in part emphasize compliance with this are expressed as cultural ideals of femininity, and are usually in some way socially rewarded. Women who adopt femininities based on resistance, or indeed engage in acts of resistance, can be marginalized and stigmatized. Patriarchal societies are heteronormative, that is, they require men and women to demonstrate their gender by actively participating in heterosex or affirming heterosexual desire [
23
].
While there are societally different ways in which this might be done, transgressions of heteronormativity are punished, and in South Africa, often violently so. The gang rape of African lesbian women and other instances of homophobic violence are particularly horrifying examples of this [
24
,
25
]. Having said this, it is important to note that gender identities change over time and that under particular circumstances, may change rapidly, for example, when legal or material contexts change dramatically. In South Africa, there is evidence that gender identities are indeed changing, although for our purposes, the persistence of gender violence remains a worrying continuity that shapes and binds forms of femininity and masculinity.
While hegemonic masculinity, and emphasized femininity, encompass practices that extend far beyond the arena of domestic, sexual and otherwise intimate relations with women (and men), it is the expression of these practices in these domains that is particularly pertinent to consideration of the intersections of gender power inequity and intimate partner violence and HIV risk. A lens of gender identity provides a frame through which we can begin to understand
why
men and women behave in the way that they do. It provides a way of reflecting on the emotional and material context within which sexual behaviours are enacted, in particular, the broader struggles, aspirations, desires and needs that motivate men and women's behaviour. It follows that only when we understand this, will we be able to change sexual behaviours (and thereby reduce the risk of HIV infection).
Shape of masculinities and femininities among black Africans in South Africa
The material inequalities and associated spatial demography (with black Africans prohibited for a long period from living in cities unless in the service of white-owned industry, and therefore confined to increasingly impoverished rural areas), which are a feature of South African life to this day, impacted on constructions of masculinity and femininity. Offering a broad brush stroke description of gender topography always runs risks, but for our purposes, we will venture some generalizations. We do so even as we acknowledge that the changes unleashed by national political developments (especially the assumption of power by the African National Congress in 1994) and global economic forces have effected significant alterations to the stark picture that we paint here.
In this way, hegemonic masculinity can be seen as a cultural ideal that links risky sexual practices and the use of violence and other controlling behaviours against women, particularly women partners. It is masculine-gendered identities, and the processes through which they are constructed, enacted and reproduced, that explain the clustering of violence and risky sexual practices seen in the epidemiological studies (discussed above). Viewed through this lens, these practices are seen as having meaning that extends well beyond the motives and rewards of the individual act.
With young black African women in the forefront of the HIV epidemic in South Africa, it is appropriate that we apply ourselves in the same way to young black African femininities. Our understanding of women's sexuality can be considerably advanced by reflecting in a similar manner on gender identity and the entailed meaning of practices. Emerging, yet unpublished research by the authors, based on extended qualitative interviews and participant observation over 10 months with women from the Eastern Cape, shows that the dominant idea of successful young womanhood is one where success is proven through being desirable to men. This is clearly complicit with hegemonic masculinity as it is framed in a way that encourages resonance, rather than discordance, with those ideas.
For African women, excusing male behaviour is an integral part of dominant femininity and essential for keeping the right man. In a practical sense that entails tolerance of violence (if he is violent), tolerance of his other partners (or when this fails, direction of aggression against them, rather than him), and ensuring that sex with the right man is "the best" (i.e., no condoms). This is supported by cultural wisdom, such as the saying that "beating is a sign of love". This dominant form of femininity thus requires women to be strong, and able to accept and cope with the stresses life brings, including those caused by women's subordinate position in their relationships.
Discussion
It is important for this argument not to be read in a way that is either culturally deterministic or victim blaming. We argue that in pursuit of hegemonic masculinity, as well as the dominant emphasised femininity, men and women are following ideals that have deep cultural roots and thus, models of behaviour that may be hard for individuals to critique and exercise real choices around. Indeed, we invoke a notion of choice for women with considerable caution, given the huge constraints on the power of young, impoverished women in a patriarchal society that has a marked age hierarchy.
Nonetheless, there is considerable diversity in the actual practices of men, choices of partners by women, and degrees of complicity, cooperation and resistance. There are women from across the social spectrum who resist gender inequality, and there is a proud history of women's movements in South Africa and of role models of women who have asserted considerable power of different forms within communities [
56
,
57
]. When interpreting women's decision making around partners and responses to male violence and controlling practices, it is apparent that women differ in the degree to which they accept and excuse these. While in some cases, this is a product of social and financial circumstances that leave no options, the visibility of this in the dating relationships of girls who are supported financially in their families reveals that the picture is more complex.
Women who experience more marked gender inequity in relationships and violence are placed at risk of HIV because they lack control of the circumstances of sex during particularly risky encounters, but their exposure to such gender inequity and violence is often related to complicity with an ideal of hegemonic masculinity. When women are acquiescent and accept male control and violence, their behaviour is considered as a trade off made from an expectation of social (or financial) reward. The degree to which women feel able to risk loss (or non-acquisition) of these rewards differs according to other dimensions of their material and emotional vulnerability. Thus, the poorest and most marginalized women, and those who have been rendered vulnerable in other ways, such as by abuse in childhood, may be least able to take the risk of displaying signs of non-conformity and resistance and of bucking the patriarchal trend of passively subordinating themselves to men.
What are the implications for prevention and care?
Both policy changes and service strengthening are needed to effectively enforce legislation that protects women and girls from gender-based violence and enables effective care and legal redress and protection for survivors. There is a need for initiatives at all levels to promote men's involvement in the care economy, including in South Africa, promoting the involvement of men as fathers, both financially and socially, in the lives of their children.
Conclusions
There is a growing body of evidence showing that women who have experienced more gender power inequity in their relationship and gender violence are at greater risk of HIV. Since men who have been violent are more likely to be infected, it seems that women are least able to protect themselves when in relationships with men who pose the greatest risk for them.
Reflecting on the clustering of male violent and risky sexual practices, we have argued that these flow from dominant ideals of masculinity. Women's exposure to these is related to their adoption of femininities that forgive and accommodate male gender-inequitable and anti-social behaviour. These ideals of femininities are embedded in cultural processes that reward compliance. Women who are most vulnerable materially and emotionally are least able to reject them, and thus, most vulnerable to male violence and control, and consequently HIV.
Understanding sexual practices as flowing from gender identities helps us to understand why they are so hard to change, as well as how change should be approached. Evidence is suggesting that it is the underlying gender identities that must be changed to advance AIDS prevention and care.
Our understanding of how to change gender identities and build the gender equity to prevent HIV infections is still in its infancy; yet the experience of many countries teaches us that it is possible to move towards gender equity. Aligning the agendas of HIV prevention and building gender equity will help to extend human rights globally, as well as make HIV prevention more effective. However, resources for this work remain severely and disproportionately limited. It is essential that funders and politicians, researchers and activists work to ensure resources are available for the developing and testing of strategies to build more gender-equitable masculinities and femininities and to implement effective strategies to address the inseparably entwined problems of gender inequality, violence and HIV.
This article is published under license to BioMed Central Ltd. This is an Open Access article distributed under the terms of the Creative Commons Attribution License (
http://​creativecommons.​org/​licenses/​by/​2.​0
), which permits unrestricted use, distribution, and reproduction in any medium, provided the original work is properly cited.
Competing interests
The authors declare that they have no competing interests.
Authors' contributions
This paper was written by both authors.