12.01.2019 | Review | Ausgabe 2/2019 Open Access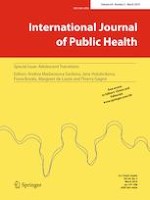 Gender differences in suicidal behavior in adolescents and young adults: systematic review and meta-analysis of longitudinal studies
Zeitschrift:
Autoren:

Andrea Miranda-Mendizabal, Pere Castellví, Oleguer Parés-Badell, Itxaso Alayo, José Almenara, Iciar Alonso, Maria Jesús Blasco, Annabel Cebrià, Andrea Gabilondo, Margalida Gili, Carolina Lagares, José Antonio Piqueras, Tiscar Rodríguez-Jiménez, Jesús Rodríguez-Marín, Miquel Roca, Victoria Soto-Sanz, Gemma Vilagut, Jordi Alonso
Wichtige Hinweise
Electronic supplementary material
Andrea Miranda-Mendizabal and Pere Castellvi contributed equally.
This article is part of the special issue "Adolescent transitions".
Publisher's Note
Springer Nature remains neutral with regard to jurisdictional claims in published maps and institutional affiliations.
Abstract
Objectives
To assess the association between gender and suicide attempt/death and identify gender-specific risk/protective factors in adolescents/young adults.
Methods
Systematic review (5 databases until January 2017). Population-based longitudinal studies considering non-clinical populations, aged 12–26 years, assessing associations between gender and suicide attempts/death, or evaluating their gender risk/protective factors, were included. Random effect meta-analyses were performed.
Results
Sixty-seven studies were included. Females presented higher risk of suicide attempt (OR 1.96, 95% CI 1.54–2.50), and males for suicide death (HR 2.50, 95% CI 1.8–3.6). Common risk factors of suicidal behaviors for both genders are previous mental or substance abuse disorder and exposure to interpersonal violence. Female-specific risk factors for suicide attempts are eating disorder, posttraumatic stress disorder, bipolar disorder, being victim of dating violence, depressive symptoms, interpersonal problems and previous abortion. Male-specific risk factors for suicide attempt are disruptive behavior/conduct problems, hopelessness, parental separation/divorce, friend's suicidal behavior, and access to means. Male-specific risk factors for suicide death are drug abuse, externalizing disorders, and access to means. For females, no risk factors for suicide death were studied.
Conclusions
More evidence about female-specific risk/protective factors of suicide death, for adolescent/young adults, is needed.