01.12.2012 | Research | Ausgabe 1/2012 Open Access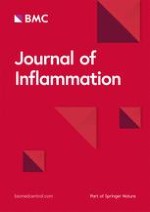 Gene expression profiling of macrophages: implications for an immunosuppressive effect of dissolucytotic gold ions
Zeitschrift:
Autoren:

Oliver Seifert, Andreas Matussek, Florence Sjögren, Robert Geffers, Chris D Anderson
Wichtige Hinweise
Electronic supplementary material
The online version of this article (doi:
10.​1186/​1476-9255-9-43
) contains supplementary material, which is available to authorized users.
Competing interests
The authors declare that they have no competing interests.
Authors' contributions
OS and CA made substantial contributions to conception, design, analysis and interpretation of data and have been involved in drafting the manuscript and revising it critically for important intellectual content. OS carried out the ELISA and TUNEL assay and performed the statistical analysis. AM and RG carried out the microarray analysis, performed statistical analysis and have been involved in drafting the manuscript and revising it critically for important intellectual content. FS carried out autometallography and drafted the manuscript. All authors read the final manuscript and have given final approval of the version to be published.
Abstract
Background
Gold salts has previously been used in the treatment of rheumatoid arthritis but have been replaced by biologicals such as TNF-α inhibitors. The mechanisms behind the anti-inflammatory effect of metallic gold ions are still unknown, however, recent data showed that charged gold atoms are released from pure metallic gold implants by macrophages via a dissolucytosis membrane, and that gold ions are taken up by local macrophages, mast cells and to some extent fibroblasts. These findings open the question of possible immunomodulatory effects of metallic gold and motivate efforts on a deeper understanding of the effect of metallic gold on key inflammatory cells as macrophages.
Methods
Human macrophage cells (cell line THP-1) were grown on gold foils and intracellular uptake was analysed by autometallography. The impact of phagocytised gold ions on viability of THP-1 cells was investigated by trypan blue staining and TUNEL assay. The global gene expression profile of THP-1 cells after incorporation of gold ions was studied using microarray analysis comprising approximately 20,000 genes. The gene expression data was confirmed by measurement of secreted proteins.
Results
Autometallography showed intracellular uptake of gold ions into THP-1 cells. No significant effect on viability of THP-1 cells was demonstrated. Our data revealed a unique gene expression signature of dissolucytotic THP-1 cells that had taken up gold ions. A large number of regulated genes were functionally related to immunomodulation. Gold ion uptake induced downregulation of genes involved in rheumatoid arthritis such as hepatocyte growth factor, tenascin-C, inhibitor of DNA binding 1 and 3 and matrix metalloproteinase 13.
Conclusion
The data obtained in this study offer new insights into the mode of action of gold ions and suggest for the investigation of effects on other key cells and a possible future role of metallic gold as implants in rheumatoid arthritis or other inflammatory conditions.