01.12.2018 | Research article | Ausgabe 1/2018 Open Access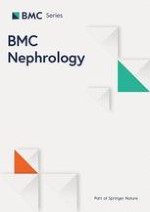 Gene mutation analysis in 12 Chinese children with congenital nephrotic syndrome
Zeitschrift:
Autoren:

Guo-min Li, Qi Cao, Qian Shen, Li Sun, Yi-hui Zhai, Hai-mei Liu, Yu An, Hong Xu
Abstract
Background
Congenital nephrotic syndrome (CNS) is characterised by increased proteinuria, hypoproteinemia, and edema beginning in the first 3 months of life. Recently, molecular genetic studies have identified several genes involved in the pathogenesis of CNS. A systematic investigation of the genes for CNS in China has never been performed; therefore, we conducted a mutational analysis in 12 children with CNS,with the children coming from 10 provinces and autonomous regions in China.
Methods
Twelve children with CNS were enrolled from 2009 to 2016. A mutational analysis was performed in six children by Sanger sequencing in eight genes (
NPHS1
,
NPHS2
,
PLCE1
,
WT1
,
LAMB2
,
LMXIB
,
COQ6
and
COQ2
) before 2014, and whole-exome sequencing was used from 2014 to 2016 in another six children. Significant variants that were detected by next generation sequencing were confirmed by conventional Sanger sequencing in the patients' families.
Results
Of the 12 children, eight patients had a compound heterozygous
NPHS1
mutation, one patient had a de novo mutation in the
WT1
gene, and another patient with extrarenal symptoms had a homozygous mutation in the
COQ6
gene. No mutations were detected in genes
NPHS2
,
PLCE1
,
LAMB2
,
LMXIB
, and
COQ2
in the 12 patients.
Conclusions
This study demonstrates that the majority of CNS cases (67%, 8/12 patients) are caused by genetic defects, and the
NPHS1
mutation is the most common cause of CNS in Chinese patients. A mutational analysis of
NPHS1
should be recommended in Chinese patients with CNS in all exons of
NPHS1
and in the intron-exon boundaries.