28.01.2020 | IM - ORIGINAL | Ausgabe 7/2020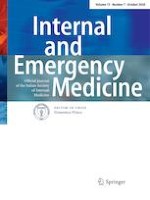 Genetic and nutritional factors determining circulating levels of lipoprotein(a): results of the "Montignoso Study"
Zeitschrift:
Autoren:

Alice Sereni, Elena Sticchi, Anna Maria Gori, Alberto Magi, Daniele Della Latta, Andrea Volta, Alessandra Murri, Giuli Jamagidze, Dante Chiappino, Rosanna Abbate, Gian Franco Gensini, Rossella Marcucci, Francesco Sofi, Betti Giusti
Wichtige Hinweise
A. Sereni and Elena Sticchi contributed equally to this manuscript.
Publisher's Note
Springer Nature remains neutral with regard to jurisdictional claims in published maps and institutional affiliations.
Abstract
Increasing evidence shows an association between high lipoprotein(a) [Lp(a)] levels and atherothrombotic diseases. Lp(a) trait is largely controlled by kringle-IV type 2 (KIV-2) size polymorphism in
LPA
gene, encoding for apo(a). Environmental factors are considered to determinate minor phenotypic variability in Lp(a) levels. In the present study, we investigated the possible gene–environment interaction between KIV-2 polymorphism and Mediterranean diet adherence or fish weekly intake in determining Lp(a) levels. We evaluated Lp(a), KIV-2 polymorphism, fish intake and Mediterranean diet adherence in 452 subjects [median age (range) 66 (46–80)years] from Montignoso Heart and Lung Project (MEHLP) population. In subjects with high KIV-2 repeats number, influence of Mediterranean diet adherence in reducing Lp(a) levels was observed (
p
 = 0.049). No significant difference in subjects with low KIV-2 repeats according to diet was found. Moreover, in high-KIV-2-repeat subjects, we observed a trend towards influence of fish intake on reducing Lp(a) levels (
p
 = 0.186). At multivariate linear regression analysis, high adherence to Mediterranean diet remains a significant and independent determinant of lower Lp(a) levels (
β
 = − 64.97, standard error = 26.55,
p
 = 0.015). In conclusion, this study showed that only subjects with high KIV-2 repeats can take advantage to lower Lp(a) levels from correct nutritional habits and, in particular, from Mediterranean diet.