13.02.2018 | Original Article | Ausgabe 3/2018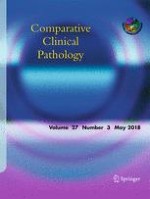 Genetic characterization and phylogenetic analysis of hemotrophic mycoplasmas in camel (
Camelus dromedarius

)
Zeitschrift:
Autoren:

Hassan Sharifiyazdi, Sanaz Jafari, Mohsen Ghane, Saeed Nazifi, Ahmadreza Sanati
Abstract
So far, a number of hemotrophic mycoplasma (HM) species have been reported from different animals, mostly based on the 16S rDNA gene sequence analysis. Although previous studies have described
Candidatus Mycoplasma haemolamae
from alpaca (
Lama pacos
), llama (
Lama glama
), and vicuna (
Lama vicugna
) in Camelidae, data on the causative agent(s) of hemotrophic mycoplasmosis or hemoplasmosis are insufficient in dromedary camel (
Camelus dromedarius
). The purpose of the present molecular study was to investigate hemotrophic mycoplasmosis in Iranian dromedary camel. Accordingly, a total number of 100 EDTA-anticoagulated blood specimens were randomly collected via the jugular vein from camels. In the present study, partial sequence data of the 16S rDNA was employed as a molecular approach for genetic characterization and phylogenetic analysis of the Iranian strains of hemotrophic mycoplasma in camel. The phylogenetic analysis revealed that one species belonged to the "haemominutum group" within the cluster of hemoplasmas (the former genus
Eperythrozoon
), the other phylogenetic analysis found species belonging to the "haemofelis group" with the hemoplasma cluster (representing the former genus
Haemobartonella
). Out of the 100 tested blood samples, 2 (2.0%) were found positive by the PCR assay. The phylogenetic tree inferred from 16S rDNA sequences showed that examined camels were naturally infected with two distinct species of hemotrophic mycoplasmas. The first strain was phylogenetically placed into an undescribed hemotrophic mycoplasma group with a new species of
Mycoplasma
sp. isolated from a pig in China with 99% genetic similarity. However, the second strain seemed basal to a large lineage of
Mycoplasma suis
with a low sequence similarity of 93.5–95.9%. In summary, this is the first molecular-based study to detect the presence of two genetically different hemotrophic mycoplasma strains in dromedary camel that are phylogenetically linked to two pathogenic swine species.