24.10.2020 | Case Report | Ausgabe 1/2021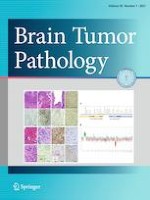 Genetic characterization of an aggressive optic nerve pilocytic glioma
Zeitschrift:
Autoren:

Christopher S. Hong, Greg Fliney, Adeniyi Fisayo, Yi An, Pallavi P. Gopal, Antonio Omuro, Renelle Pointdujour-Lim, E. Zeynep Erson-Omay, S. Bulent Omay
Wichtige Hinweise
Publisher's Note
Springer Nature remains neutral with regard to jurisdictional claims in published maps and institutional affiliations.
Abstract
Optic nerve glioma (ONG) is a rare, typically slow-growing WHO I grade tumor that affects the visual pathways. ONG is most commonly seen in the pediatric population, in association with neurofibromatosis type 1 syndrome. However, sporadic adult cases may also occur and may clinically behave more aggressively, despite benign histopathology. Genetic characterization of these tumors, particularly in the adult population, is lacking. A 39-year-old female presented with 1 month of progressive left-sided visual loss secondary to a enhancing mass along the left optic nerve sheath. Initial empiric management with focal radiotherapy failed to prevent tumor progression, prompting open biopsy which revealed a WHO I pilocytic astrocytoma of the optic nerve. Whole-exome sequencing of the biopsy specimen revealed somatic mutations in NF1,FGFR1 and PTPN11 that may provide actionable targets for molecularly guided therapies. Genetic characterization of ONG is lacking but is needed to guide the management of these rare but complex tumors. The genomic alterations reported in this case contributes to understanding the pathophysiology of adult sporadic ONG and may help guide future clinical prognostication and development of targeted therapies.