02.02.2019 | Original Research | Ausgabe 6/2019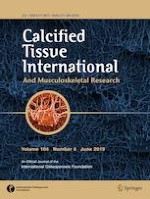 Genetic Disruption of
Anoctamin 5

in Mice Replicates Human Gnathodiaphyseal Dysplasia (GDD)
Zeitschrift:
Autoren:

Xiaoyu Wang, Xiu Liu, Rui Dong, Chao Liang, Ernst J. Reichenberger, Ying Hu
Wichtige Hinweise
Electronic supplementary material
Publisher's Note
Springer Nature remains neutral with regard to jurisdictional claims in published maps and institutional affiliations.
Abstract
Gnathodiaphyseal dysplasia (GDD; OMIM#166260) is a rare skeletal disorder which is mainly characterized by cemento-osseous lesions in mandibles, bone fragility, bowing and diaphyseal sclerosis of tubular bones. GDD is caused by point mutations in
Anoctamin-5
(
ANO5
); however, the disease mechanisms remain unclear. Here we generated
Ano5
-knockout (KO) mice using a CRISPR/Cas 9 approach to study loss of function aspects of GDD mutations. Homozygous
Ano5
knockout mice (
Ano5
−/−
) replicate some typical traits of human GDD including massive jawbones, bowing tibia, sclerosis and cortical thickening of femoral and tibial diaphyses. Serum alkaline phosphatase (ALP) levels were elevated in
Ano5
−/−
mice as in GDD patients. Calvaria-derived
Ano5
−/−
osteoblast cultures show increased osteoblastogenesis, which is consistent with our previous in vitro observations. Bone matrix is hypermineralized, and the expression of bone formation-related factors is enhanced in
Ano5
−/−
mice, suggesting that the osteogenic anomaly arises from a genetic disruption of
Ano5
. We believe this new mouse model will shed more light on the development of skeletal abnormalities in GDD on a cellular and molecular level.