26.01.2017 | Original Article | Ausgabe 3/2017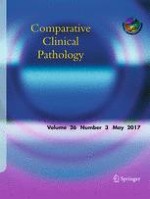 Genetic influence of DNAM-1 (DNAX accessory molecule-1) gene polymorphism (rs 763361) on susceptibility and disease activity of systemic lupus erythematosus and rheumatoid arthritis in Egyptian patients
Zeitschrift:
Autoren:

Rabab A. Mohamed, Mervat I. Abd Elazeem
Abstract
Genome-wide association studies have led to the involvement of multiple susceptibility genes in the development of systemic lupus erythematosus (SLE) and rheumatoid arthritis (RA). The present case control study was conducted to determine the possible association of DNAM-1(C/T, rs 763361) single nucleotide polymorphism (SNP) with RA and SLE in the Egyptian population. This study aimed to determine the possible genetic influence of SNP on disease activity in SLE (represented by SLEDAI score) and in RA patients (represented by DAS28). Fifty SLE patients compared to 43 healthy controls and 35 RA patients compared to 30 healthy controls were included in the study. The PCR-RFLP technique was used to detect DNAM-1(C/T rs 763361) gene polymorphism. Analysis of the frequency distribution of both allele and genotype frequency distribution of SLE and RA patients compared to healthy control subjects did not reveal a significant association between SLE and RA patients and the rs763361. Analysis of the disease activity status in lupus nephritis (LN) and non-lupus nephritis patients revealed a significant association between DNAM-1(C/T) SNP and LN patients carrying the TT and CT genotypes (
P
= 0.009 and 0.004; respectively). DNAM-1(C/T rs763361) SNP is not associated with the development of SLE and RA in Egyptian population. The SNP might be associated with disease activity status represented by SLEDAI score in LN patients carrying CC and CT genotypes, respectively.